By Tom Charity
Special to CNN





(CNN) -- "The night Max wore his wolf suit and made mischief of one kind ... and another ..."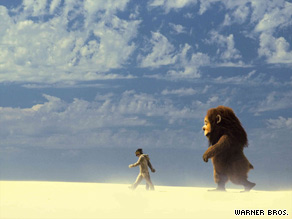 Max (Max Records) leads the way in the wild things' world in "Where the Wild Things Are."
Maurice Sendak's picture book "Where the Wild Things Are" has beguiled generations of parents and children since its publication in 1963, but a feature film adaptation never seemed especially likely. The book runs to 338 words and takes all of five minutes to read.
Sendak's words are so carefully chosen, and his images are so potent, he creates not one but two worlds within a handful of pages. First there is the mundane domestic life of a rampaging 6- or 7-year-old child; and then there's the thrillingly boisterous, exotic and acquiescent land of his imagination -- an island of wild and wonderful beasts where he rules the roost (at least until dinnertime).
The trick of the movie, then, is to fill in the blanks without papering over the story's infinitely suggestive wriggle room: the poetic crawl space that can transform a bedroom into a forest into a sea, a small boy into a king, and a temper tantrum into a jungle rumpus.

Gallery: The world of the "Wild Things" »
Spike Jonze's direct and daring film gets a lot right. It's physical: full of roughhousing and dirt clod fights, the kind which start fun and inevitably end in tears. It's funny: Jonze has a knack for throwaway gags, like the wild thing that loses an arm and replaces it with a stick.
Don't Miss
It's also potentially ferocious: There's a real fear that Max's new best friend Carol (a toothy monstrosity voiced by James Gandolfini) will lose his self-control and eat Max up, he loves him so.

Watch Forest Whitaker and Catherine O'Hara talk about the film »
The opening 10 to 15 minutes, in the "real" world, are beautifully portrayed, giving us the kind of acute (as opposed to cute) child's-eye view we used to get from Steven Spielberg. Max (freckle-faced Max Records) can pick at the toes of his mom's tights until he has her attention, wear a wolf suit, and stomp snow all over his big sister's bed, all without a hint of self-consciousness. And when he cries, his face burns up.
The "where" -- once we get there -- doesn't resemble a studio interior or a green screen simulation. It's a forest with real trees growing in the ground, even if they're pocked with CGI holes where the wild things have swiped them. Jonze's regular cinematographer, Lance Acord, shoots fantasy with the simplicity of a home movie, with occasional shakes and wobbles and beautiful accidents.
So far, so good. But the wild things themselves -- each painstakingly modeled on Sendak's illustrations -- are more problematic.
By design they're neither fish nor fowl: They have fur and scales and wings and horns. They are also, quite evidently, actors in body suits. The movie's release was delayed for a year while the effects guys devised animatronic facial movements for them, but even if you can't see the joins, you can feel them.
And hear them.
What does a wild thing sound like? Sendak only hints at it, but this is where Jonze and his co-writer Dave Eggers have devoted their energies, imagining a dysfunctional tribe of petulant overgrown children, rampaging through the woods without inhibition or restraint, who are also immature adults -- voiced by Catherine O'Hara, Forest Whitaker and Chris Cooper -- whining and bickering about the social pecking order. This must be what it's like backstage at the Disneyland parade: disenchanting.
Somehow, I doubt this is what Max's imagination sounds like.
When Max declares himself king, the small boy becomes patriarch, but for all his big dreams, he proceeds to make a royal mess of everything, as dads so often do.
"Where the Wild Things Are" eventually tilts toward an older audience and away from the book's youngest fans. That can be a problem, especially if you've brought very little ones. (Keep in mind: It's rated PG.)

On the other hand, Jonze gives us a smart, poignant riff on a very short story. It may not be altogether magical, but there's a lot right. And that's worth quite a rumpus.
"Where the Wild Things Are" is rated PG and runs 94 minutes. For Entertainment Weekly's review, click here.
E-mail to a friend