By Grace Wong
For CNN





LONDON, England (CNN) -- She's only 34, but Drew Barrymore has spent a lifetime in Hollywood.
Since her acting debut aged seven the petite star known for her free-spirited energy and girl power credo has acted in and produced more than 40 films -- all of which she has drawn on for her directorial debut, "Whip It."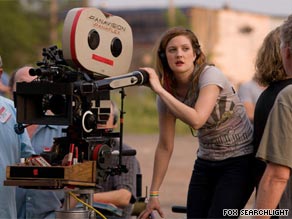 Hollywood actress, producer and now, director, Drew Barrymore on the set of debut feature "Whip It."
"I've learned a lot in the time that I've been in this business and I wanted to apply all those lessons in the first film I directed," she told CNN at the movie's Los Angeles premiere Wednesday.
"Whip It" tells the story of Bliss Cavendar, a misunderstood Texan teenager forced to follow in the footsteps of her beauty pageant mother.
Should actors direct films or should they stick to the day job? Tell us below in the SoundOff box
But life takes a turn when Bliss, played by Ellen Page of "Juno," discovers the rough and tough world of female roller derby. She joins a team called the Hurl Scouts, rechristening herself Babe Ruthless.
Page -- who Barrymore has called the "angel" of her story -- leads a cast of wild women on skates, including Juliette Lewis and Barrymore herself, who plays Smashley Simpson, a hippie with anger issues.
Barrymore, who has led a varied Hollywood career since "E.T." launched her as a child star in the 1980s, said directing her first film was a dream come true.
"I've been waiting to make this film my whole life and to tell this story," she told CNN last month at the comedy drama's world premiere at the Toronto International Film Festival.
The Screening Room
Bringing you the inside track on all aspects of the movie business around the globe.


Based on the novel "Derby Girl" by Shauna Cross, who also wrote the screenplay, "Whip It" continues the girl power spirit of earlier Barrymore projects like the "Charlie's Angels" franchise.
Over the years Barrymore has become a bankable actress, with roles in a stack of frothy rom coms like "The Wedding Singer" and "50 First Dates" under her belt.
Barrymore has also explored more serious fare, most recently earning critical acclaim for her portrayal of eccentric Little Edie Beale in the TV movie "Grey Gardens," as well as moving into producing. Her production company, Flower Films, produced both "Charlie's Angels" movies.
Barrymore has said that, naturally, she was nervous about making her first feature film. She was unsure of whether she'd be able to pull it off, but didn't let fear stop her from taking on the challenge.
She was drawn to the varied elements of the "Whip It" screenplay, which covers themes of love and friendship, as well as a conflict, between Bliss and her mother, played by Marcia Gay Harden.
Barrymore may have been a newbie at directing, but actress Page was impressed with her skills. Page told CNN that working with Barrymore was "absolutely mind blowing" and called it one of the best experiences she's had.
What does Barrymore attribute her success to? "I think if you respect the people you work with and you show up prepared and confident, then what you give is the room to have fun and give them the floor."
The film opens across the U.S. Friday.
E-mail to a friend