By Tom Charity
Special to CNN





TORONTO, Ontario (CNN) -- It's easy to see why movie stars love Toronto: Toronto loves them right back.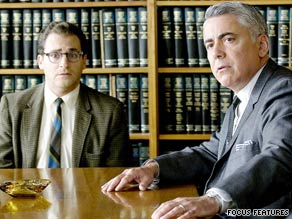 The Coen brothers' latest, "A Serious Man," is the best American film reviewer Tom Charity has seen this year.
What the city lacks in palm trees, it makes up for in enthusiasm.
In a typical Toronto International Film Festival moment, Colin Firth was delighted when the crowd outside one red carpet party serenaded him with an impromptu "Happy Birthday." He was surprised, too: The British actor, who is attracting Oscar buzz for his performance in fashion designer Tom Ford's directorial debut "A Single Man," had turned 49 a few days earlier.
TIFF has weathered the financial issues challenging other film festivals and brought in a host of films and stars. As usual, the most highly praised titles from Cannes made Toronto their first port of call on this side of the Atlantic. Moreover, the organizers were able to boast a hundred world premieres, including up to half a dozen serious Oscar hopefuls.
But there can be a downside to all this civility. As one rep bemoaned to me, the Canadians are too nice.
Movies that inspire walkouts and passionate controversy elsewhere -- like Lars von Trier's "Antichrist" or Harmony Korine's latest slice of underbelly art, "Trash Humping" -- meet with nothing more than cordial interest here, and although producer Jeremy Thomas suggested that the subject matter of his Charles Darwin film "Creation" frightened off prospective U.S. distributors, there were no protests in Canada when it was selected for the opening night gala. See some of TIFF's sights on the Marquee blog
Only the inclusion of some films from Tel Aviv, Israel, sparked a glimmer of controversy, with a petition rebuking the festival's political insensitivity and the regrettable withdrawal of two Egyptian films. Still, the protests died down when audiences had a chance to see the quality of the Israeli films in general and Venice-prize winner "Lebanon" in particular.
Like last year's "Waltz with Bashir," this was a highly critical first-hand account of Israel's incursion into Lebanon in 1982, based on writer-director Samuel Maoz's nightmarish experience as part of a tank crew. It's the kind of film that could give some Zionists pause before they next send their children off to war.
As for "Creation," despite an intense performance from Paul Bettany as the great scientist, the film makes too much of his reluctance to publish "On the Origin of Species." Chances are that Richard "The God Delusion" Dawkins will be more upset than the evangelicals by a drama that imagines Darwin haunted to the point of delirium by the ghost of his dead daughter.
The indomitable Coens
Strangely, ghosts featured in the first three movies I saw at TIFF, none of them horror films. In the Coen brothers' "A Serious Man" and Jacques Audiard's compelling prison opus "A Prophet," specters represent moral unease, shame and a vague but powerful sense of impending doom.
This apocalyptic strain found its most explicit expression in John Hillcoat's honest, diligently grim adaptation of Cormac McCarthy's "The Road" and in two documentaries fueled by the economic meltdown, Michael Moore's "Capitalism: A Love Story" and the even more Cassandra-like "Collapse."
The Coens' movie -- on the face of it a "smaller" film (but don't you believe it) -- is a star-less affair, a sardonic comedy set in 1967 about a physics teacher, Larry Gopnik (Michael Stuhlbarg), benumbed and bewildered by his wife's announcement that she wants a divorce. Closer in spirit to the movies they made in the early '90s -- "Barton Fink," "Miller's Crossing" and "Fargo" -- "A Serious Man" is distinguished by its concentration and intellectual rigor, as well as its steady stream of painfully funny scenes.
This is the first Coens' film to address religion head-on, and a fat lot of good it does Larry, who stumbles from one crisis to the next, never resolves anything and only pleads helplessly that he "hasn't done anything." If there's a better American movie this year, I'll be surprised.
Outstanding Clooney
Kudos, though, to local boy Jason Reitman ("Thank You for Smoking") for the timely, and distinctly Coenesque, "Up in the Air." In his finest comic performance to date, George Clooney is Ryan Bingham, a career consultant whose job is to handle the layoffs corporate managers would rather not deal with themselves.
It's a canny bit of casting: Ryan is a confirmed bachelor who does his best to divest himself off any emotional baggage and who is in permanent flight; he's well on his way to a million air miles. Clooney shows us what's attractive about such a lifestyle before (inevitably) getting a glimpse of what he's missing.
Oscar tipsters will have marked Clooney down for best actor for this film (and not "The Men Who Stare At Goats," his other title in TIFF this year) and probably costar Vera Farmiga as well for her sexy, assured supporting turn.
As for best actress, Abbie Cornish should keep her diary clear for December and January's red carpet season. Her very moving portrait of John Keats' muse, Fanny Brawne, in "Bright Star" is both nuanced and forthright, always present and alive. What's more, this ardent, romantic film should prove Jane Campion's most popular since "The Piano."
"It's a puppet show," Campion observed when asked about her own Oscar chances. "But it's a puppet show we want to be in."
She may get a shot.
The festival concludes Saturday.
E-mail to a friend

All About George Clooney • Coen Brothers • Toronto International Film Festival Group