By Grace Wong
For CNN






LONDON, England (CNN) -- If Cannes Film Festival raises the curtain on the spectacle that is the movie awards season, then the fall festival circuit is the critical first act.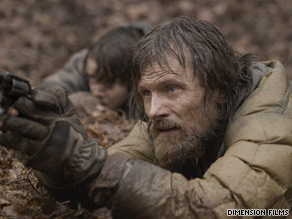 Viggo Mortensen stars in "The Road," which debuted at the Venice Film Festival.
With Venice underway and Toronto just a few days from kicking off, the fall festival season is in full swing. Critics, producers, distributors, actors and agents are almost halfway through a nearly month-long stretch of critical fests that can shape the race for film awards.
"Venice is the very beginning of awards season campaigns," Lee Marshall, a film critic for industry mag Screen International, said in an interview from Venice.
With its parade of red carpet stars, the festival, currently underway at the Lido, has traditionally served as a launching platform for awards season. It screened "Brokeback Mountain" in 2005, which won director Ang Lee an Oscar.
Early predictions about awards front-runners have been floating around since Cannes, where speculation about Oscar hopefuls is as much a feature of the festival as tightly-packed crowds on the Croisette.
But the 18 days book-ended by Venice and Toronto, with small fest Telluride in between, gives critics and distributors alike an opportunity to take in dozens more films, and consequently, for awards speculation to really heat up.
"You occasionally get a film screened at Cannes that turns out to be an Oscar contender, but it's really more Venice and Toronto that play an important role in launching Oscar contenders," Venice veteran Marshall said.
At Venice this year, 24 films are in competition at the Lido, including Michael Moore's new documentary "Capitalism: A Love Story" and an adaptation of Cormac McCarthy's "The Road," starring Viggo Mortensen and Charlize Theron.
The Screening Room
Bringing you the inside track on all aspects of the movie business around the globe.


Many of the films at star-studded Venice, which finishes September 12, will also show at the Toronto International Film Festival, which runs from September 10 to 19.
Which potential awards season contenders are you most excited to watch? Tell us in the SoundOff below
Toronto, which is screening more than 300 films this year, has turned into one of the most important markets for buying and selling films, and has become a must-attend destination for the movie industry.
2010 Awards Season
Golden Globes: January 17

BAFTAS: February 21

Oscars: March 7
Aside from being a hot bed for movie dealing, Toronto is perfectly positioned for launching films for the awards season, Piers Handling, director and CEO of the Toronto International Film Festival, told CNN. He noted that Best Picture winners like Sam Mendes' "American Beauty" premiered at the festival.
"Toronto sets up the rest of the fall season. After the light popcorn fare of the summer, it's the beginning of more serious films," Handling said. Being situated in September, it kicks off campaigns for the Golden Globes, Academy Awards, and to a degree, the BAFTAs, he pointed out.
Festivals can change the trajectory of a film, particularly when it comes to art house movies which tend to have a rougher time getting distribution and press coverage, and it isn't just the big festivals that matter.
Last year Danny Boyle showed his "Slumdog Millionaire" at the shorter, four-day Telluride Film Festival. The rags-to-riches tale, which then moved on to Toronto for its world debut, went on to win both box-office and awards glory.
"The buzz, word of mouth and initial reviews immediately after it premiered positioned it as a movie to watch," said Emanuel Levy, a critic and member of the Hollywood Foreign Press Association, which selects the winners of the Golden Globes.
Don't Miss
On the other hand, a movie can play and die in festival, he said. In addition to the high cost of bringing a film to a festival, many studios won't do it because they don't want to risk bad reviews.
Steven Soderbergh's "The Informant!," a Warner Brothers movie starring Matt Damon as an agribusiness whistle blower, is one of the few big studio films being shown on the fall circuit this year. (Warner Brothers, like CNN, is owned by Time Warner.)
While the fall festivals are extremely important, Levy, who is also author of "All about Oscar," expects festivals overall to play a significant role this awards season, especially since the Academy Award race for Best Picture is being widened to 10 nominees from five.
"That's a lot of spots," and it creates room for films like "Precious" -- a movie about an abused teenager which won three awards at Sundance in January, played at Cannes and Telluride, and is in the Toronto line-up, Levy said.
Expanding the category to 10 nominees "will expand the range of movies nominated in both directions," giving small, art films as well as those with more commercial appeal a better shot, he said.
E-mail to a friend

All About Academy Awards • Film Festivals • Film Awards • Venice Film Festival