By Tom Charity
Special to CNN





(CNN) -- No movie of the last 10 years -- not even "Fight Club" -- has had a more precious hold on the hearts and minds of white-collar wage slaves than "Office Space," Mike Judge's bittersweet 1999 valentine to coffee machine kvetch sessions and lives of inert desperation.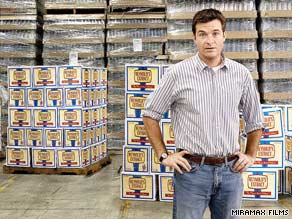 Jason Bateman plays a business owner in "Extract," the new movie from Mike Judge.
That gem only found its audience on video and DVD, and the jury is still out on Judge's apocalyptic follow-up, "Idiocracy," which scarcely figured in theaters at all.
But desk lackeys and Beavis fans everywhere will be bummed to learn that one of their own has crossed over to the other side.
The hero of Judge's third picture, "Extract," is a manager, and worse than that: He's the boss.
Mind you, they might reflect that on this evidence, things aren't any brighter on the other side of the desk. Joel (Jason Bateman) is not so much a captain of industry, just an entrepreneur who got more than he bargained for when he figured out a cost-effective food flavoring process.
He has a lot in common with Michael Bluth, the character Bateman played in "Arrested Development." Joel's a good employer who cares about the team working at his bottling plant, but he resents the long hours, the endless hassles, and that the steam has gone out of his marital relations. If he's not home by 8, he moans to his buddy Dean the bartender (a hirsute and permanently stoned Ben Affleck), his chances of getting any have gone out the window.
It's a minor mystery how Joel finds so much time to hang out with Dean -- whose sage counsel invariably involves pharmaceuticals -- when he should be rushing home to bed, but as his sexual frustration mounts, Joel's judgment heads off in the other direction. Just as well for us, as it's Dean who plants the film's funniest seed.
Familiar with his buddy's scruples when it comes to playing away from home, this bozo Iago suggests a devious trap for Joel's wife, Suzie (Kristen Wiig). If she allows herself to be seduced by the gigolo Joel hires as the new pool cleaner, then surely he's free and clear to follow through with the hot new temp, Cindy (Mila Kunis), right?
After a couple of stiff drinks and a horse tranquillizer pill, this idea makes a lot of sense to poor old Joel. Needless to say, things don't go quite the way Dean mapped them out.
Billy Wilder would have appreciated the moral finesse of such a stratagem, and Bateman is the rare actor who could equally play one of Jack Lemmon's beleaguered honest Joes, or one of Walter Matthau's shyster cynics. In fact, he's most interesting when integrity and opportunism slip and slide across each other. Here, he's fundamentally a decent guy, relatively speaking.
Not that it helps. Maybe it makes things worse. For him, that is. Not for us.
A subplot involving Kunis' gold-digging con artist is crude in comparison. Cindy may be the smartest cookie in the tin, but the character is never more than a mirror of men's knee-jerk neediness -- and a cliche.
Judge is at his best satirizing the petty grievances and ineptitude that prevail on the factory floor -- he does blue collar with the same acerbic acumen he brought to white. It's a jaundiced vision, but you get the impression he wouldn't have it any other way. These people -- workers and bosses both -- may be grouchy and inefficient, but that's why we can relate. It makes them human.
The movie is the same: a slow burner that sometimes threatens to fizzle right out, but doesn't. It's not like the slick gloss of your typical production line romantic comedy, but ultimately a refreshing antidote to such dross.
"Extract" is rated R and runs 91 minutes. For Entertainment Weekly's review, click here.
E-mail to a friend

All About Jason Bateman • Ben Affleck • Mila Kunis