By Tom Charity
Special to CNN





(CNN) -- A modest movie pinned to a generational landmark, the latest curve ball from "Brokeback Mountain" director Ang Lee is a gentle coming-of-age, coming-out comedy set against the epochal music festival.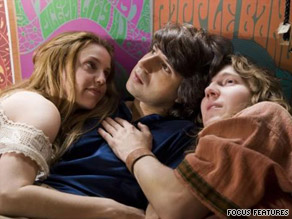 "Taking Woodstock" features, from left to right, Kelli Garner, Demetri Martin and Paul Dano.
Forty years ago, when Janis Joplin, Jimi Hendrix, Jefferson Airplane et al took to the makeshift stage in a cow field in the Catskills, Lee was 14 years old and still living in his native Taiwan.
James Schamus, his long-time producer and screenwriter, was just nine.
Both were a long way from what the movie calls "the center of the universe."
Perhaps that's why "Taking Woodstock" shies away from the main stage and the big names.
Instead, it focuses on Elliot Teichberg (Demetri Martin), a young man who quits Greenwich Village to help his parents keep open their failing Bethel motel, El Monaco.
Elliot is resourceful enough to become Bethel's youngest director of the chamber of commerce, but between his mom's penny-pinching and his dad's depression, it looks like El Monaco will be lucky to last through the summer.
That is, until a neighboring community tells concert promoter Michael Lang (Jonathan Groff) he can't hold his hippie shindig in their backyard.
Sensing an opportunity, Elliot invites Lang to check out his facilities. After all, he already has a permit for his own annual summer festival, which involves an experimental theatre troupe in the barn and playing records out in the meadow.
The rest, as they say, is history.

Watch clips from the film and an interview with the cast »
It's a little perverse to make a Woodstock movie that's more about the money than the music. (If you're after classic rock, you better stick with Michael Wadleigh's concert movie, now longer than ever on Blu-ray and DVD.)
Still, the point is clear enough: While the Teichbergs and their neighbors make a killing on the back of half a million hungry, thirsty long-hairs, Elliot, who is a bit of a square and at least halfway in the closet, discovers a higher calling. Not religion, but drugs and sexual liberation (an acceptable substitute for many in '69).
Lee's last few films include "Crouching Tiger, Hidden Dragon", "Hulk," "Brokeback Mountain" and "Lust, Caution." They have little enough in common, except for his patient tempo and, perhaps, an abiding interest in that moment when people break rank and act out of character, usually when things get passionate.
"Passion" wouldn't be the first word that comes to mind here, but "Taking Woodstock" is another leisurely affair. The build is artful enough. We get a palpable sense of the encroaching crowds and the split-screen chaos, but it's too slow, really, given that no one here is more than an inch away from amiable caricature.
Imelda Staunton huffs and puffs to remind us of all those Jewish mommas from the old country; Emile Hirsch struggles to find coherence as a borderline crazy Vietnam vet; and Liev Schreiber shows up wearing a flower-print summer frock, packing heat in his garter belt. These are characters from farce, but Lee isn't one for bed-hopping and slamming doors, and the movie never generates much steam in the laughter department -- or tries to.
As Elliot, stand-up Demetri Martin never transcends his miserable haircut and walk-on-the-mild-side demeanor. But Henry Goodman has fun going from gruff to gusto as the boy's father, Jake, unexpectedly re-energized by the sudden influx of the hippie hordes.

A moving father-son heart-to-heart late in the film shows one generation sending the next out into the great unknown. Lee is good at these small, intimate scenes, but you do wonder if he's ever been to a rock concert in his life. "Taking Woodstock" is so inoffensive it feels like a footnote.
"Taking Woodstock" is rated R and runs 120 minutes. For Entertainment Weekly's review click here.
E-mail to a friend