By Nicole Sperling





(Entertainment Weekly) -- Score a personal best at the box office for Quentin Tarantino this weekend. "Inglourious Basterds," his revisionist take on WWII starring Brad Pitt, grossed an estimated $37.6 million, besting the reigning box office champ "District 9," and giving beleaguered studio The Weinstein Co. a little financial relief.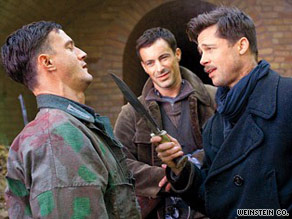 "Inglourious Basterds," a revisionist take on WWII starring Brad Pitt, grossed an estimated $37.6 million.
"Basterds'" opening far surpasses Tarantino's previous best opener, "Kill Bill Vol. 2," which brought in $25 million in April 2004. The critical question now is how "Basterds" will hold up during the next few weeks. Since Weinstein only has domestic rights to the movie -- Universal Pictures holds international -- a large overall gross stateside is mandatory for the company.
Warner Bros. had a much harder time with its release "Shorts" from auteur Robert Rodriguez. Opening to only $6.6 million, the PG-rated kid flick landed in a weak 6th place finish for its opening frame.
The only other new release to reach the top ten was Fox Searchlight's post-college flick "Post Grad" starring Alexis Bledel. Despite opening in 1,959 locations, the film grossed only an estimated $2.8 million for the three days.
Among holdovers, "District 9" did incredibly well considering Basterds was angling directly for its male audience. The $30 million sci-fi movie from newcomer Neil Blomkamp dropped a scant 49% to $18.9 million putting its total ten day gross at an impressive $73 million.
"G.I. Joe" also hung in for its third week in theaters. The high-octane actioner fell only 44 percent to $12.5 million. It's three-week cume now stands at $120 million. Female moviegoers helped keep "The Time Traveler's Wife" and "Julie & Julia" in the top five.
"Time Traveler" dropped only 46 percent to $10 million its second week putting its ten-day gross at $37.4 million while "Julie & Julia" fell only 25 percent, which is remarkable considering the movie is in its third week of release. Grossing $9 million for the three days, the Meryl Streep, Amy Adams two-hander has now earned $59 million total.
Thanks to the strong opening of "Basterds" and the solid hold of the incumbent films, the box office was up 26 percent compared to the same time last year. It's the third week in a row the box office was up after four weekends of unimpressive results. Next weekend's horror mash-up of "Halloween II" and "The Final Destination 3-D" should yield some positive results too.
E-mail to a friend

CLICK HERE to Try 2 RISK FREE issues of Entertainment Weekly
Copyright 2009 Entertainment Weekly and Time Inc. All rights reserved.