By Mairi Mackay
CNN





LONDON, England (CNN) -- Director James Cameron is today unveiling a 15-minute taster of his hotly-anticipated 3D sci-fi blockbuster "Avatar" to sold-out audiences in selected cinemas across the world.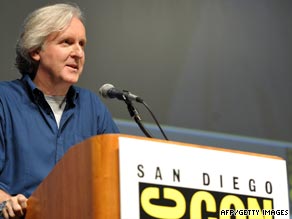 Director James Cameron has long been a fan of 3D technology and "Avatar" combines digital 3D with epic big screen storytelling.
Those who snapped up a ticket to the event that has been dubbed "Avatar Day" will be privy to footage of the much-hyped, technically-advanced 3D science fiction epic that some are saying will revolutionize the way we watch movies.
The Oscar-winning director is famous for pushing the boundaries of technology in film and has long been an enthusiastic proponent of 3D technology. "Avatar" is the fruition of his long-held ambition to combine digital 3D with epic big screen storytelling.
"The 3D is going to be mind-boggling," David Cohen of film industry trade magazine Variety told CNN. "He may indeed be pushing 3D to another level."
Fueling the hype is the fact that "Avatar" is Cameron's first film since "Titanic" in 1997 -- the most successful film of modern times -- and a return to sci-fi for the "Aliens" and "Terminator" series director.
Set on the lush and magical jungle planet of Pandora, the story takes place against the backdrop of a war between invading humans and Pandora's native species, the Na'vi.
Sam Worthington stars as a former Marine paralyzed from the waist down offered the chance to have a healthy body again by becoming an "avatar" -- a 10ft tall, blue-skinned creature genetically engineered to resemble the planet's humanoid life forms. The cast includes Sigourney Weaver, Michelle Rodriguez and Zoe Saldana.
"Avatar" is a combination of live action and photo-realistic CGI and is being touted as a huge leap forward in film technology -- likened to the first movie in sound or with Technicolor.
The famously perfectionist director first came up with the concept for "Avatar" 14 years ago but decided not to make the film until technology was advanced enough to cope with his vision.
In fact, the ex-trucker who dismantled his first 35mm movie camera to see how it worked took tech matters into his own hands, teaming up with longtime collaborator Vincent Pace to develop the most advanced camera rig using stereoscopic (3D) cameras yet for the film.
It has lenses that mimic the human eye -- positioned close together that can move a little to capture objects that are near or far away. This allows the cinematographer to capture two images simultaneously to give the illusion of depth.
In July, Cameron showed a 25-minute preview to fans at Comic-Con in San Diego and since then frothing commentators have described "Avatar" as everything from mind-expanding to the future of cinema.
His peers are impressed too: Ridley Scott says he is filming upcoming sci-fi adaptation "Forever War" in 3D after seeing some footage of "Avatar." While "Iron Man" director John Favreau described the film as "a game-changer" and says he thinks it is "the future."
It helps that Hollywood is also squarely behind 3D, a medium that is gaining momentum and popularity fueled by the success of films like "Coraline" and DreamWorks' "Monsters vs. Aliens."
Earlier this year Pixar's 3D animation "Up" opening the Cannes Film Festival supplying the medium with yet another stamp of approval from those who matter. Would you pay more money to watch a film in 3D?
"In a couple of years, all kids movies will be made in 3D and when they get older they will expect all films to be made in 3D," says Cohen. "It will probably happen in about 15 years."
But right now, one issue that many including Cameron are stepping around very carefully is that not all movie theaters are digitally equipped to project films in 3D.
In the UK, the UK Film Council reports that around 320 out of 3,600 screens are digitally equipped, while in the U.S. the ratio is even worse. These figures are predicted to improve rapidly over the next few years.
The Screening Room
Bringing you the inside track on all aspects of the movie business around the globe.


Cameron argues vociferously that movies have to play well in both 2D and 3D; that a narrative should work whether it's shot as a black and white silent or as a 3D color epic.
But, says Cohen, there's more to the issue than Cameron is letting on. Films are made differently for 3D -- different lenses, different depth of field, different pace of editing.
For example, action sequences which traditionally have fast cutting are edited more slowly because the eye and the brain cannot process stereoscopic cinema as fast as 2D.
"If you make a movie to work in both formats, it doesn't work fully in either format," points out Cohen. "You can't fully exploit either format."
This could have implications for the popularity of "Avatar" with the large numbers of people who will have to watch it in 2D when it comes out on December 18 -- with a potential knock on effect on box office takings.
But, whatever happens with "Avatar," it is unlikely to halt the steady march of 3D towards domination of our movie theaters.
"This is a revolution that's here to stay," said Cohen. "We are headed for a future in which 3D screens are ubiquitous and where we simply get used to using the stereo sense again."
E-mail to a friend