By Todd Leopold
CNN





(CNN) -- John Hughes got it.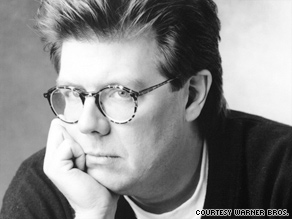 Writer-director John Hughes was behind some of the most beloved films of the 1980s. He died Thursday at 59.
That's the reaction from CNN's iReport contributors and blog commenters, not to mention the performers who appeared in the writer-director's films.
"He made teenagers real and brought us out of the 'yes man' era into an era where we had voices and dreams, ideas and conviction -- even if we weren't sure about what," wrote L. Jay Houston on CNN.com's The Marquee blog.
Lori, another blog commenter, says Hughes inspired her career choice.
"['Sixteen Candles'] was like watching my crazy life on the big screen, and wishing that Jake Ryan would show up on my front door with his red Porsche," she wrote. "John Hughes inspired me to get my master's in film directing, and my own work is a version of teenage life today. He inspired me to want to tell terrific stories about life, love and the pursuit of finding one's self." Read more blog tributes to Hughes
Hughes, who directed, wrote or produced -- or combinations thereof -- some of the most beloved films of the 1980s, died Thursday of a heart attack in New York. He was 59.
Among his credits were "Sixteen Candles," "The Breakfast Club," "Ferris Bueller's Day Off," "Pretty in Pink," "Planes, Trains and Automobiles" and "Home Alone."

Watch scenes from some of Hughes' films »
At Hughes' best, his characters were three-dimensional and sympathetic, with relationships that rang true. He could go for easy laughs from caricatures -- such as Long Duk Dong, the Asian exchange student in "Sixteen Candles" -- but he also showcased genuine, heartfelt relationships between teenagers and their elders, without turning either into idiots. The father-daughter relationship in "Candles," played well by Paul Dooley and Molly Ringwald, is a model for how such relationships can evoke empathy, truth -- and laughs.
Such insight was rare at a time when many teen-oriented films were "Porky's"-style sex comedies, and remains rare today.
Judd Nelson, who played "The Breakfast Club's" tough guy, talked about Hughes' ability to capture relationships in a statement and how it reflected the man behind the camera.
"John's desire for the truth of the spoken word aligned perfectly with his gift for treating young people not as children but as developing adults," he said. "John always treated me with respect and consideration [and] he was most generous with his insight. ... I know many people whose lives were touched by John will be saddened today. ... I know I am."

See where some of Hughes' stars are today »
Steve Martin, who starred in "Planes, Trains and Automobiles," said he was shocked to hear of the director's death.
"He was such a great writer who created so many enduring characters for film, both as a director and a writer. His real gift was in creating these identifiable characters," Martin told CNN.
Blog commenter Charlie Larson said he worked with Hughes while in advertising in the 1970s. "We worked on the Betty Crocker account. John would come up with the absolute funniest, off-the-wall commercials I've ever seen," Larson recalled. "We would say: 'That was really funny, John, but Betty Crocker's image would shatter if they ran that spot.' "
A commenter called Bobbie on The Marquee blog said that Hughes' films, though generally populated by upper middle-class white teens, touched on "universal themes."
"And may I say, that as an African-American fan, I was always unnerved about the focus paid to the complaint that his stories and characterizations were not inclusive and somewhat exclusive to one 'experience,' " she wrote. "That was not at all true. I always felt that his storytelling contained a set of universal themes that no matter, who you were, or where you were, you could find in them someone or something you could relate to."
Ironically, as popular as Hughes' films were and have remained, they generally populated the lower reaches of their year-end top 20 lists at the box office. The top-grossing films of the 1980s included "Beverly Hills Cop," "Back to the Future," "Top Gun" and "Three Men and a Baby." Only "Home Alone" (1990), which Hughes wrote and produced, was an out-and-out blockbuster on that level.
Hughes set many of his films in the northern suburbs of Chicago, Illinois, and natives told iReport they were hit particularly hard by Hughes' death.
"I grew up in Northbrook," wrote GlenBNorth83 on iReport. "I was so amazed how well he portrayed the characters of that area. I could name a person for each of 'The Breakfast Club' kids -- even down to the teacher, like every year those same personalities and roles would appear. ..."
Jamie Silva, an iReporter born in San Diego, California, moved to Chicago partly because of Hughes' influence. He's now closing on a house in the North Shore suburb of Northbrook.
"I didn't plan it, but crazy as life is, this forgotten teenage dream is actually becoming a reality, how weird is that," he wrote. "John, you made a huge impression on so many, and may be the subconscious reason I'm starting my family" there.

Blog commenter Mary perhaps summed up Hughes' impact best.
"His movies were filled with humor, compassion, tolerance and sensitivity," she wrote. "I am very sorry that he has left us so soon."
E-mail to a friend

All About John Hughes • Steve Martin • Molly Ringwald