By Henry Hanks
CNN





(CNN) -- There's nothing terribly unusual about Mike Gardner's home in Cumming, Georgia -- except in the basement, where there lives a world of action figures.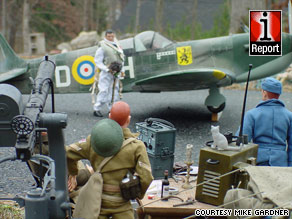 Devoted G.I. Joe collector Mike Gardner has created many elaborate dioramas like this one.
Gardner's collection numbers in the hundreds and includes a large castle diorama, where figures are posed as if on a horror movie "set." Creating these elaborate dioramas, such as a "skeleton army" and a recreation of "War of the Worlds," can each require 150 hours of painstaking work, said Gardner.
He is one of several collectors who originally posted their stories and photos on iReport.com.
Dominant among his collection are the 12-inch G.I. Joe figures, first introduced in 1964 as an answer to Barbie. These are quite different in appearance from the 3 ¾-inch "Real American Hero" figures which first appeared in 1982 and upon which the new movie "G.I. Joe: The Rise of Cobra" is loosely based.
Gardner meets with local fans on a weekly basis to discuss their shared interest and to see other collections. He recently met a collector who had a 3,500-square-foot mini-warehouse full of the toys.
Gardner's passion for G.I. Joe goes back to his childhood, when the figures stirred his imagination. "My G.I. Joe was so well worn," he said. "We tried tying him to parachutes and throwing him up in the air in my backyard, tying him to rockets."
Like others in his group, Gardner rediscovered G.I. Joe in the 1990s when Hasbro started releasing new versions of the classic 1960s and 1970s models. The advent of eBay, which has a "buying guide" page devoted to Joes, fueled his interest. "At that point, I was hooked."
Besides meeting weekly, Gardner's group has put on a local convention called "Joelanta" every year for the past decade. The event draws nearly 1,000 fans of G.I. Joe and other figures. The devotion of the Atlanta fans was so impressive that the official "G.I. Joe Collectors' Club" convention came to Atlanta, Georgia, in 2007.
Marten Jallad, who handles publicity for "Joelanta," explained the "instant bond" that collectors have. "We don't do this for the money," he said. "The camaraderie is what it's all about. G.I. Joe brings people together."
Convention co-founder Buddy Finethy agrees. "I really wanted people to be together, to experience the social aspect of collecting," he said. iReport.com: More "Joelanta" dioramas
Paul Ivy of Olympia, Washington, became so well-known in collector circles that he even taught a class on G.I. Joe photography at a convention in 1998. Ivy, an amateur military historian, began collecting the classic Joes at a garage sale in 1985, a time when the smaller "Real American Hero" figures were all the rage.
As for any rivalry between the two types of collectors, Ivy described it as "a light-hearted jabbing and ridiculing." The "Real American Hero" era is just not for him, he said, as the figures have "no basis in military history."
Collecting the figures was not easy before the advent of the Internet. With the help of collector books, classified ads, fliers and yes, more garage sales, he amassed a nearly complete collection of 200 vintage Joes, but then he "hit a wall." That's when he came upon the idea of creating his own G.I. Joe costumes, with the assistance of his wife, a fashion designer.
"They never made the time period of uniforms I wanted anyway -- so I made them myself." Ivy set out in the early 1990s to get "every time period represented," and succeeded, before selling many of his and his wife's designs in 2001. iReport.com: Ivy's customized "Joes"
Don't Miss
Not every collector's significant other is as understanding as Ivy's. Jeff Patton moved his collection, consisting of 25th-anniversary edition figures reminiscent of the 1980s Joes, into a cubicle in his Salt Lake City, Utah, office last year because his wife didn't want them in the house. That solution was short-lived: His employers found the display "not very professional."
Not long after that, his wife started to come around. "She saw that it wasn't as bad and nerdy as she had thought," he said. She agreed to let him devote an entire room to his 300-figure collection.
Patton collects the 25th-anniversary figures because of the retro packaging, which takes him back to when he watched the cartoons, read the comic books and played with the figures as a child. He remembers loving the fact that there were so many members of the 1980s "Real American Hero" team to collect, and seeks out as many of the new edition figures as he can.
"I buy two each, one to keep and one to keep in packaging," a practice his wife still finds "very strange."
Aside from the 25th-anniversary set, Hasbro, the toy company which makes G.I. Joe, occasionally releases replicas of the vintage Joes targeted at collectors.
For years, including the run-up to the release of the movie, the company has kept in contact with fans online through the official G.I. Joe club.
"It has totally changed the way we market and develop product," said Neal Hoffman, who works on marketing for G.I. Joe for the United States. "In the past, we would talk to [collectors] face to face a few times a year, and now it's a constant two-way communication."
Marc Heller of Chicago, Illinois, is among the fans looking forward to the movie. His love of G.I. Joe and other figures led him to open his own independent toy store.
"As I was growing up, I loved the comic books," he said. "They had lots of incredible stories that went along with the characters."
Heller has hundreds of the "Real American Hero" and 25th-anniversary figures and sells some of his own collection at his store, which is devoted to 1970s and 1980s action figures. He said that a lot of people in their mid-30s, like him, come into the store with their children. Some are hardcore collectors; others are seeking a sense of nostalgia. iReport.com: Take a tour of Heller's toy store

Gardner and the "Joelanta" crew have big plans as well. They are now devoting their efforts -- and all "Joelanta" proceeds -- toward building a permanent toy and diorama museum in Atlanta, in honor of a collector who died at age 17.

According to Gardner's fellow diorama creator Steve Bugg, the time they spend talking about their collection and working on dioramas is "like family."
And though they don't collect the 1980s figures, they plan to attend an early screening of the new movie Thursday night.
E-mail to a friend