By Breeanna Hare
CNN





(CNN) -- Jennifer Aniston appears resigned to the single life, if an interview in Elle magazine is any indication.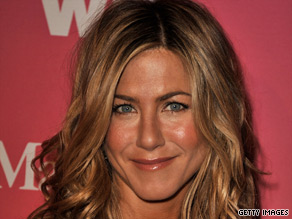 Jennifer Aniston poked fun at her love life at an awards event this year.
"If I'm the emblem for 'this is what it looks like to be the lonely girl getting on with her life,' so be it," Aniston said in the September issue, according to a excerpts released by the magazine.
Aniston's relationships -- or lack thereof -- have been rumor mill fodder since even before her divorce from actor Brad Pitt in 2005. She's been paired with actor Vince Vaughn and musician John Mayer, among others, but nothing has worked out long-term. Nevertheless, she insists that the incessant attention to matters of her heart doesn't shake her.
"I'm not going to ignore the pink elephant in the living room," she said of her rocky post-divorce love life. "It's fine. I can take it."
Others have noticed as well. In People magazine, Bette Midler offered advice to cure Aniston's single-girl status.
"She should find somebody who is really hot, who's not in show business. Somebody with a lot of money, and she should live the large life and forget about these a--holes," Midler said.
Aniston has said that it appears her love life has imitated her art.
"I kind of noticed a few years ago, there seems to be a strange parallel between the movies I'm doing and my life off-screen," Aniston said when she accepted the Women in Film Crystal Award for expanding women's roles in Hollywood at the ceremony in June.
"It started with 'The Good Girl,' then of course 'Rumor Has It,' followed by 'Derailed.' Then there was 'The Break Up.' If any of you have a project entitled 'Everlasting Love with a Stable Adult Male,' I'm at table 6!" she said.
But it's that sense of humor that's been the key to keeping her head above the gossip, she told Elle.
"I can make fun of myself," she said in the interview, "and I'll bring it up as long as the world is bringing it up."
E-mail to a friend

All About Jennifer Aniston • Relationships