By Adam B. Vary





(Entertainment Weekly) -- Buoyed no doubt by repeat business and premium 3-D ticket prices, Disney/Pixar's "Up" lifted past the bona fide surprise hit "The Hangover" to be the first film of the summer to land at number one at the box office two weekends in a row.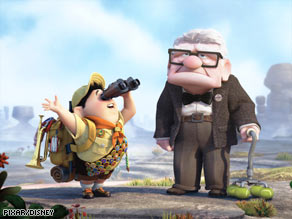 In "Up," a curmudgeonly senior citizen, Carl, tries to cope with the enthusiasm of Russell, a young boy.
Well, maybe.
Early estimates from Hollywood.com Box Office have "Up" grossing an estimated $44.2 million to "The Hangover's" $43.3 million, a less than $1 million difference that gives the R-rated comedy a chance to push to the top spot once actual figures are released tomorrow. Regardless of the final numbers, "Up's" estimated total gross of $137 million places it firmly in the upper echelon of Pixar earners.
Even if "The Hangover" doesn't pop enough of "Up's" balloons to make it to No. 1, stars Bradley Cooper, Ed Helms and Zach Galifianakis and director Todd Phillips (Old School) have a lot to celebrate.
Not only did the film pull in an outstanding "A" CinemaScore rating, the craziest-bachelor-party-ever dude-fest managed to draw in just about as many women as it did men.
That bodes well for the film's staying power through the rest of the month, where its stiffest comedy competition will be the high-concept, ancient times Jack Black/Michael Cera flick "Year One" in two weeks.
And if "Land of the Lost's" box office fate is anything to go by, Black and Cera should be certainly concerned. The high-concept comedy under-performed with $19.5 million for third place, nowhere near star Will Ferrell's best opening weekends.
Worse yet, the film earned a dismal C+ CinemaScore average; audiences 35 to 49, ostensibly the age group that would best remember the original 1970s kids TV series on which the film is based, gave it a D+. Ouch.
"My Life in Ruins," star Nia Vardalos' return to movies after a five year absence, opened to just $3.2 million on 1100 screens -- which, actually, is slightly better than "My Big Fat Greek Wedding's" first weekend in wide release, but it's probably best not to expect Greek lighting to strike twice.
By contrast, the indie road dramedy "Away We Go" weathered mixed reviews to bank an estimated $143,000 on just four screens, for an outstanding $36,000 per screen average.
Meanwhile, "Night at the Museum: Battle of the Smithsonian" took fourth place with $14.6 million, a solid 40 percent drop for a $127.3 three-week total.
"Star Trek" continued its fantastic run, dropping just 33 percent with $8.4 million for fifth place and $222 million overall.
Sam Raimi's horror-fest "Drag Me to Hell" disappointed again, dropping 54 percent for a 7th place finish of $7.3 million, bringing in $28.5 million in two weeks.
And "Angels & Demons" -- which slipped to No. 8 with $6.5 million in U.S. box office for a $116 million stateside total -- broke past $400 million in global earnings, making it the highest grossing film worldwide for 2009.
E-mail to a friend

CLICK HERE to Try 2 RISK FREE issues of Entertainment Weekly
Copyright 2009 Entertainment Weekly and Time Inc. All rights reserved.