By Alan Duke
CNN





LOS ANGELES, California (CNN) -- Elizabeth Taylor tweeted as she arrived home from a Los Angeles hospital Tuesday afternoon.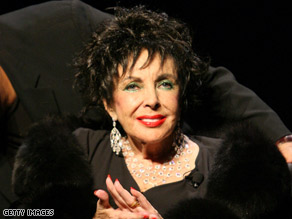 Elizabeth Taylor was released from the hospital Tuesday, after checking in for a routine visit.
Many Taylor fans may not know, but tweeting is a good sign -- and not a medical condition -- for the Oscar-winning and legendary lady of film.
Taylor, 77, checked into a Los Angeles hospital last week for what her publicist said was a routine visit.
"I'm home from the hospital and feeling great," Taylor's wrote in a tweet -- a short message posted on the online micro-blogging site Twitter. "Thanks for all the love and support!"
Her use of Twitter to get the word out to fans illustrates a change in the way celebrity news is spread in Hollywood.
"You're the one who just informed me," longtime Taylor publicist Dick Guttman said when called for confirmation.
Taylor opened her Twitter account earlier this year as "DameElizabeth," at the suggestion of her close friend, model-actress-author-businesswoman Kathy Ireland, Guttman said. She's tweeted 38 times since then.
She posted tweets several times from her hospital bed over the past week, including this one directed to Ireland:
"Thanks Darling for the beautiful flowers and all the prayers. Now can you just get my puppy past hospital security. Love."
Last month, when Susan Boyle made a splash with her singing on "Britain's Got Talent," Taylor took note with a tweet:
"I just love Susan Boyle! I want to hear her magnificent voice again and again."
Concerns about Taylor's health, which have swirled for years, might be lessened with knowledge that the actress is vigorously adopting new ways to connect with her fans.
But this story comes with a warning to fans that all tweets are not authentic.
Tweets purporting to be from Taylor contemporary Mickey Rooney are not from the 88-year-old actor.
"Mickey doesn't like computers, so he doesn't Twitter," Rooney publicist Kevin Pawley said. The last posting from the fake Rooney: "Where are my pants?"
E-mail to a friend

All About Elizabeth Taylor • Twitter Inc.