By Tom Charity
Special to CNN





(CNN) -- Critics and Catholics were quick to denounce Ron Howard's faithfully irreligious film of Dan Brown's "The Da Vinci Code" when it was released almost exactly three years ago.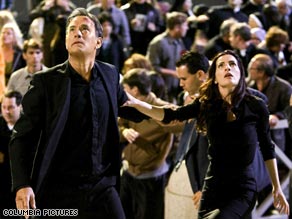 Tom Hanks and Ayelet Zurer wonder what in heaven is going on in a scene from "Angels & Demons."
The public went anyway: It made three-quarters of a billion dollars worldwide.
Now we get the movie of Brown's previous page-turner, "Angels & Demons," again from the slightly fusty Howard-Tom Hanks combination.
This time church members should be mollified by the film's more tempered line on ecclesiastical affairs. But moviegoers may be less forgiving of its implausible plotting and tendency to pontificate on arcane -- and likely specious -- historical footnotes.
Screenwriters David Koepp and Akiva Goldsman have taken some liberties with the source, beginning with the time frame, which is set a year or so after the momentous revelations about Mary's bloodline. (Face it: Tom's not getting any younger.) Apparently the Catholic Church withstood that bombshell, only to stumble into a more urgent crisis with the unexpected death of a progressive pope and the subsequent kidnapping of four cardinals on the eve of the conclave to elect his successor.
Not only that, the kidnappers claim to belong to a secret sect, the "Illuminati," and promise to kill their captives at hourly intervals before the day is done, a bloody countdown to the midnight destruction of the church itself.

Watch Tom Hanks address the film's controversy »
As Ray Parker Jr. put it, "Who you gonna call?"
With the clock ticking and a missing canister of antimatter (!) to further concentrate wavering minds, Vatican emissaries show up at Professor Robert Langdon's door. The symbologist immediately embarks on what looks like a wild goose chase, criss-crossing Rome, Italy, with willing physicist Vittoria Vetra (Israeli actress Ayelet Zurer) and a dwindling cadre of suspicious Vatican guards in tow.
Don't Miss
In better shape than he was in "The Da Vinci Code" -- he's introduced with a lengthy swimming workout to prove it -- and evidently no longer troubled with claustrophobia, Langdon is still a more cerebral scholar-hero than his peers Indiana Jones and "National Treasure's" Ben Gates. It's telling that he passes out right in the middle of his biggest action scene, and he's a bystander when it comes time to defuse a deadly time bomb, ceding the spotlight to Ewan McGregor's dashing Camerlengo McKenna, a flying padre.
Weird, then, that Langdon also seems wanting when it comes to his academic credentials. Despite his professional interest in history, religion and code-breaking, he struggles with Latin and hasn't mastered Italian. Standards are obviously slipping at Harvard.
He is quick on the uptake though, and navigates Rome's famously stagnant traffic at lightning speed -- albeit invariably arriving fractionally too late to save the kidnapped clerics from grisly, "Seven"-like deaths, each opportunistically themed to one of the four classical elements.
The race-against-time scenario is preposterous, and not only in retrospect, but the movie is crisp and compelling if you let it gloss over your own powers of deduction.
The picture's real star is the production design. The Catholic Church barred the filmmakers from several key locations (not unreasonably in the circumstances) but you would never know it. It's impossible to tell which were shot on site and which were recreated digitally.
The encroaching darkness is carefully developed in Salvatore Totino's atmospheric cinematography, and the climactic son et lumiere show is genuinely impressive to behold. iReport.com: A- for "Angels & Demons"
Efficiently acted by pros such as Armin Mueller Stahl and Stellan Skarsgaard, "Angels & Demons" smacks of a macabre mystery tour of Roman art and architecture, with Tom Hanks as our informative but paranoid guide.

It's not great cinema but high hokum. The melodramatic climax is more hysterical than historical. Still, Howard brings us home on blind faith and sheer nerve, which may prompt a few moviegoers to utter hosannas.
"Angels & Demons" is rated PG-13 and runs 138 minutes. For Entertainment Weekly's review, click here.
E-mail to a friend