By Joshua Rich





(Entertainment Weekly) -- J.J. Abrams' franchise reboot boldly went where no Star Trek movie has gone before, grossing a stellar $72.5 million from Friday through Sunday, according to early estimates by Hollywood.com Box Office.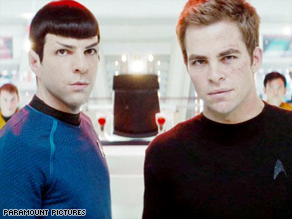 In the film, Spock (Zachary Quinto, left) and Kirk get off on the wrong foot.
That's the second-best opening of 2009 (after X-Men Origins: Wolverine's $85.1 million last weekend), and it includes a whopping $8.2 million earned in IMAX showings, a new one-weekend record for the large format (beating The Dark Knight's $6.3 million).
What's more, if you add in the $4 million that the movie starring Chris Pine and Zachary Quinto earned in late-Thursday showings, Star Trek has banked an impressive $76.5 million so far -- well ahead of most expectations.
This result is highly logical. Considering all the hype and buzz and strong reviews that Star Trek has garnered, it's no surprise that this film's opening sum is by far the biggest of any Star Trek movie: Of the 10 previous flicks in the franchise, 1996's Star Trek: First Contact bowed best, with (only) $30.7 million over three days.
Moreover, a look at the movie's CinemaScore report card reveals some potentially good news. While it drew an expected crowd mostly comprised of older males, Star Trek's solid-A grade shows that word of mouth could be strong enough to bring in fans outside of the franchise's usual demographic (i.e. people who weren't alive in the 1980s...and women) as the weeks go on.
Unless said folks are too distracted by Angels & Demons, Night at the Museum 2, and all the other big flicks on tap, of course.
X-Men Origins: Wolverine (No. 2) was next with $27 million on a 68 percent decline. Fanboy-driven films always fall hard, but this drop is particularly hefty. Nevertheless, Hugh Jackman's franchise flick has already banked $129.6 million in 10 days.
Fellow holdovers Ghosts of Girlfriends Past (No. 3 with $10.5 million), Obsessed (No. 4 with $6.6 million), and 17 Again (No. 5 with $4.4 million) rounded out the top five. And the comedy Next Day Air failed to take off, grossing just $4 million at No. 6.
And in limited release, neither Rudo y Cursi nor Little Ashes made much of a mark, as each averaged well under $7,000 per theater.
Overall, the box office was up nearly 22 percent from the same frame a year ago (when the infamous Speed Racer hit a bump in the road). And, really, what could be a better Mother's Day gift than that? Love ya, Mom! Have a great day!
E-mail to a friend

CLICK HERE to Try 2 RISK FREE issues of Entertainment Weekly
Copyright 2009 Entertainment Weekly and Time Inc. All rights reserved.