From Jason Carroll
CNN





CNN -- For "Star Trek" fans, it may feel like deja vu all over again.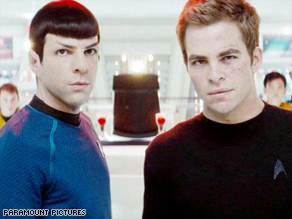 The new "Star Trek" movie tells the story of the early lives of the USS Enterprise crew.
Well, sort of.
The new film, directed by J.J. Abrams, takes "Trek" back to the early days of the USS Enterprise with a young Capt. James T. Kirk and his crew.
The movie introduces a slew of movie newcomers in what are now iconic roles: Chris Pine takes on the role of the passionate Kirk; Zachary Quinto is the logical Spock; Zoe Saldana plays the beautiful Lt. Uhura; Karl Urban is Dr. Leonard "Bones" McCoy; Simon Pegg plays engineer Montgomery "Scotty" Scott; John Cho is Sulu; and Anton Yelchin appears as Pavel Chekov.
The group will be stepping into some pretty big Starfleet shoes as they seek to give a backstory to characters that millions of fans have come to know and love. iReport.com: Share "Trek" movie excitement
Thanks to a hard-core fan base that watched the show's 79 episodes religiously, the original "Star Trek" television series spawned a franchise of major motion pictures, television shows, conventions and merchandise. EW: A "Star Trek" timeline
Abrams, the presence behind the television series "Lost" and "Alias," is fully aware of the hallowed ground on which he treads.
"Oh, I feel the pressure," Abrams told Entertainment Weekly. "In the eyes of a lot of fans, this is sacred material." Watch how the director handled a key scene
Don't Miss
The new film has already stirred some controversy among die-hard Trekkies for messing around (a little) with that "sacred material." In the new film, the Enterprise is built in Iowa instead of San Francisco, and some of the relationships are a bit different than fans may remember -- particularly a romantic relationship.
But history comes in handy, particularly if you're an actor trying to get a handle on "Star Trek's" characters. Several looked to their predecessors to help shape their performances.
Quinto, who has found fame as a member of another beloved sci-fi show, "Heroes," said he was fortunate to be able to rely on the assistance of the original Spock, Leonard Nimoy.
"[Nimoy] has been involved with the project longer than I, so he was a direct and available resource to me," Quinto said. "I just really poured myself into [the role] and did a lot of reading to find out sort of some specifics about the mythology and the history of the Vulcan culture."
Saldana, whom some may remember as the pirate Anamaria in "Pirates of the Caribbean: The Curse of the Black Pearl," said there was some trepidation about portraying Uhura, a character so familiar to audiences.
"It's a very heavy decision to decide to play a character that has been created by someone before and has been well received for 40-somewhat years," she said. "But at the same time, to be part of something that has been so special for 40-somewhat years, to play characters that have affected people so much that have compelled them to become devoted fans of it for so long."
Cho, who plays Sulu, said he understands both the longevity of "Star Trek" and the admiration.
"There's something elemental about the characters, the dichotomy between the logical Spock and the passion of Kirk, and there's something that speaks to our psyche about that," said Cho, who is probably best known for his roles in the films "American Pie" and "Harold & Kumar Go to White Castle."
"There's also this sense of optimism and hope about the Enterprise and its mission of peace. That is something that doesn't get un-cool as the decades go on," he said.
Pine, who took on the role of Kirk, says the world today is in some ways very similar to how it was when the original "Star Trek" television series ran.
"The original series comes out in the late '60s during a time of social unrest and two wars, and then you look at the bridge of the Enterprise, and it's a veritable United Nations of colors, races and sexes," he said.
"I mean, all you have to do is look around the world, and we're trying to kill each other more often than not," Pine added. "What a wonderful thing to look at a bunch of people working together against one common enemy that's out there."

The new members of Starfleet are in agreement with their respect of the juggernaut that is "Star Trek." They are just happy to become part of the legacy and hope that audiences will give it a chance.
"Go and see this movie," said Urban, who plays McCoy. " 'Star Trek' is ballistic, it's sexy and it's back."
E-mail to a friend

CNN.com's Lisa Respers France contributed to this report.
All About Star Trek • J.J. Abrams • Leonard Nimoy