By Alan Duke
CNN





LOS ANGELES, California (CNN) -- When emergency crews scramble to a celebrity's home and it turns out to be a false alarm, journalists don't usually write about it.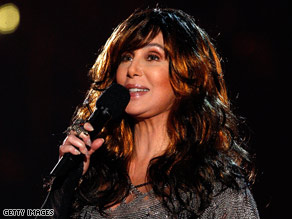 Cher made the most of a false alarm, offering admiration for emergency personnel who came to her house.
When the celebrity is Cher and her publicist issues an entertaining response to a reporter's call, some entertainment writers can't resist.
The electronic call for help sounded at Cher's Malibu, California, home at 11:16 a.m. Thursday, spurring a flurry of activity.
Ambulances and fire trucks rushed to the singer's residence, sending journalists to their address books for Cher's contact information.
Her publicist, Liz Rosenberg, quickly responded to CNN's questions with this e-mailed explanation:
"Just spoke to Cher who confirmed it was a false alarm but said she never saw so many cute firemen and paramedics in her life," said Rosenberg's response. "She added there was an especially gorgeous black-haired ambulance driver that she is really sorry she didn't get to meet. Maybe there'll be another false alarm ..."
We will keep you updated.
E-mail to a friend

All About Cher