LOS ANGELES, California (CNN) -- Redmond O'Neal, son of actors Ryan O'Neal and Farrah Fawcett, will get another chance to kick his drug addiction before facing more jail time.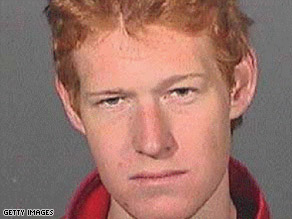 Redmond O'Neal, 24, and his father were arrested in September.
A Los Angeles judge placed O'Neal, 24, in an "intensive drug rehabilitation program that includes in-custody treatment at Wayside Honor Ranch," a court spokeswoman said Thursday.
If he fails to complete the program, which will last at least a year, he could face up to four years in prison, said Los Angeles County Deputy District Attorney Tony Estradas.
Redmond O'Neal and his father were arrested in September when deputies found methamphetamine during a probation search at the Malibu home of 67-year-old Ryan O'Neal.
The younger O'Neal was on probation for a 2008 felony drug conviction involving heroin and methamphetamine.
He also faces charges in Santa Clarita, California, for a third drug case. He entered a not guilty plea Wednesday in that case.
E-mail to a friend

All About Redmond O'Neal