NEW YORK (CNN) -- Sarah Jessica Parker is expecting twins this summer, but she's not pregnant.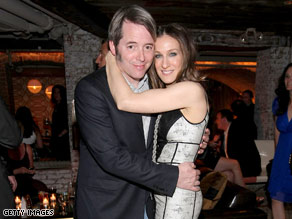 Matthew Broderick and Sarah Jessica Parker are expecting twins this summer.
The "Sex and the City" star and her husband of 12 years -- actor Matthew Broderick -- "are happily anticipating the birth of their twin daughters later this summer with the generous help of a surrogate," according to a statement issued by their publicists.
"The entire family is overjoyed," the statement said.
It did not say if the surrogate was the genetic mother of the twins or if embryos from Parker, 44, had been transferred to her.
The couple already has a 6-year-old son, James Wilkie, who was named after Broderick's father, actor James Broderick.
E-mail to a friend