By Mairi Mackay
CNN





LONDON, England (CNN) -- In the 40 years since Stephen Frears fell into filmmaking -- "it wasn't my masterplan" -- the twice Oscar-nominated veteran director has defied genre to direct a clutch of movies that inspire a special kind of devotion from audiences.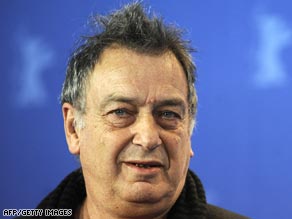 British director Stephen Frears has been making films that inspire a special kind of devotion from audiences for over 40 years.
Features like period drama "Dangerous Liaisons" (1989), underrated noir-ish indie "The Grifters," and Hanif Kureishi-penned 1980s gay love story "My Beautiful Laundrette," are full of edgy characters that stay with you long after you leave the movie theater.
Over the years Frears has also made a habit of portraying fiercely independent, determined -- and occasionally dangerous -- women. "I've only ever met strong women," he says. "I don't know any weak women."
Frears' latest film, "Cheri," a saucy period tragicomedy, which reunites him with leading lady Michelle Pfeiffer 21 years after he directed her to an Oscar nomination in "Dangerous Liaisons," is no different.
Pfeiffer, who he describes as "one of the great beauties of the world," plays Lea a wealthy, retired courtesan who still retains more than a glimmer of her famed allure.
The film, set in the sumptuous years of the Belle Époque, just before the WW1, charts her passionate romance with Cheri, the wayward playboy son of a rival courtesan, and its tragic consequences. Look at stills from "Cheri"
The film touches on doomed love and the fragility of youth but most of all it gives both Pfeiffer and Kathy Bates, who plays a rival courtesan and the sly, scheming mother of Cheri, a chance to shine.
"In a way, it's a throwback," says Frears of his portrayal of commanding feminine figures -- especially older women. And Pfeiffer, a "woman of a certain age" in the film is portrayed as an object of desire. Frears says he harks back to the films of the 1940s.
"Films with Bette Davis in them, and Joan Crawford -- Barbara Stanwyck -- in them, and they were about strong women -- very, very strong women.
The Screening Room
Bringing you the inside track on all aspects of the movie business around the globe.


"Cheri" is also a film about people in the margins -- "It's a film about a prostitute," says Frears -- a theme the filmmaker has always been attracted to, perhaps because he feels rather marginal himself.
He is modest in the extreme; self-deprecating at times, putting all his longevity and success down to being "lucky." "Incredibly lucky," the 68 year-old tells CNN. "Indescribably lucky."
And yet, he looks careworn and grizzled, with a face as creased as his chinos and ancient T-shirt. His voice, however, the byproduct of many, many cigarettes, like the illicit one he smokes during our interview, is sonorous and commanding.
"I've always thought the Queen was a marginal figure," he says alluding to his 2006 film "The Queen," about Elizabeth II's reaction in the days after the death of Princess Diana.
"She's more marginal than anybody since there's nobody like her. But it always amused me that the Queen fitted into that category."
What is your favorite Stephen Frears movie? Tell us in the SoundOff box below
Lead actress Helen Mirren won the Best Actress Oscar that year for her portrayal of the monarch. She is one of an elite group of top actresses that have received a nomination from the Academy under Frears' direction: Pfeiffer, Glenn Close, Anjelica Huston and Annette Bening.
It's not about direction, though, according to Frears. The secret is in the casting. "The main job is who you hire," he says. "Who you approach. Once you've cast somebody, you can't change them. They are who they are.
"The women I've worked with are intelligent and... it's hard to argue with a woman about womanliness.
"What you try and find is how to conduct an intelligent conversation with all the people around you, everybody around."
For Frears, being surrounded by the right people is the most important thing.
"You create the world in the film, but you create the world that makes the film and I take enormous trouble about the people that I have around me -- who I think are brilliant."
One of these is long-time collaborator and "Cheri" screenwriter Christopher Hampton, who won an Oscar for the "Dangerous Liaisons" script and also wrote "Mary Reilly," Frears' 1996 take on "Dr Jekyll and Mr Hyde," which starred Julia Roberts and John Malkovich.
"By the time I appeared Christopher Hampton had already written a very good script. So, in a sense I don't have to overcome that obstacle," says Frears of "Cheri," with typical modesty.
"He's already written something that comes to life and leaps off the page."
The list of writers Frears has worked with reads like is a "Who's Who" of contemporary talent -- Hanif Kureishi, Alan Bennett, Stephen Poliakoff, Roddy Doyle, Peter Morgan -- and has earned him the reputation as a "writer's director."
Frears himself, famously says he can't write: "I'm illiterate." But he also denies that, perhaps, part of his talent lies in being able to bring the right group of people together.
"It's not that way round," he says shaking his head and repeating the mantra. "I've been very, very lucky.
"It's not finding people who can write for me, it's just that I, by the grace of God have found myself in the company of very, very good writers."
One thing his modesty will permit him to admit to doing is "a bit of thinking that nobody else does." He is driven forward, he says, by a constant curiosity, but is most happy that he has been able to make films that people respond to: "I'm amazed that I've made a number of films that people really love."

"You know when you've successfully brought something to life and when you've failed." Sometimes, the fear of failure keeps him awake at night. "You just wonder if today is the day you can't bring something to life."
"Have I done all right?" he asks when we finally have to finish the interview. Luckily, he has.
E-mail to a friend