By Andrea Mineo
CNN





NEW YORK (CNN) -- Spike Lee's still got game. The Brooklyn-based filmmaker brings a full-court press to New York's 2009 Tribeca Film Festival.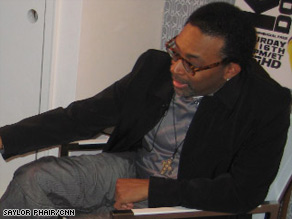 Spike Lee talks with CNN at the 2009 Tribeca Film Festival in New York.
Lee is premiering two documentaries at the festival, which runs from April 22 to May 3. In "Passing Strange," he captures the closing-night performance of the one-man Broadway show of the same name.
In "Kobe Doin' Work," he follows Los Angeles Laker Kobe Bryant with 30 cameras as the basketball star does his thing on the court. The film will air on ESPN on May 16 commercial free and will be released on DVD later.
But even with two new films, Lee says the process still isn't easy.
"It's really tough to get a film made, so you've got to be very resourceful," the veteran director said.
CNN talked to Lee about Tribeca, his love of basketball and his cinematic mark. The following is an edited version of that interview:
CNN: Tell me about having your films screened at Tribeca.
Spike Lee: Yeah, it's funny. This year is the eighth year, I think, of the Tribeca Film Festival. They've been trying to get me for a long time, but I just never had a film that was ready in the time.
CNN: How did you come up with the idea to follow Kobe Bryant around on the court?
Don't Miss
Lee: It was a film that came out of Cannes two or three years ago about Zidane, the world-famous soccer player, and in that documentary, all the cameras were on him, Zidane.
And I was amazed when I saw it and I said, "This would work for basketball, too." And to entice Kobe, I wanted to show him the Zidane film. What's important is that soccer was Kobe's first sport. I mean he grew up in Italy, so I knew that this would appeal to him, and he saw the documentary and he said, "Let's do it."
CNN: There were 30 cameras used. How many challenges did you face with that?
Lee: We could use more! I got some more spots we could place a camera, but the challenge is that you've got to look at all that footage you shoot, that's the challenge.
CNN: Tell me about your love of basketball.
Lee: Well, I love baseball, too. But my father is a huge sports fan, and he used to take me to the old Garden, and that's where my love of basketball and the Knicks started. When I was like an 8, 9-year-old kid growing up in Brooklyn, New York.
CNN: This is the 20th anniversary of "Do the Right Thing." What does that film represent to you?
Lee: Well, to me, "Do the Right Thing" represents the first time I felt confident as a director. My first two films, "She's Gotta Have It" and the second film, "School Daze," I didn't really know what I was doing. I was just learning on the job.
And that's not to say that you never stop learning as a director, but "Do the Right Thing" was the first time I felt secure, and I really knew better how to communicate with the actors. It's funny. This year, I've visited Yale University, Temple University, University of Pennsylvania for three classes.
There's a course -- the films of Spike Lee. So they're really looking at the whole body of work, which I am really proud of, and "Do the Right Thing" is one of those films.
CNN: You were really the first African-American director to make inroads ...
Lee: You got Oscar Micheaux, Gordon Parks, Ossie Davis, Michael Schultz, so there are a lot of people before me.
CNN: But I think that if you went out on the street and asked people walking by, your name would come up more often than any of those men that you just named.
Lee: That might be, but I still wasn't the first.
CNN: Do you think you've made it easier for young filmmakers?
Lee: That's what students tell me, so I believe them.
E-mail to a friend

All About Spike Lee • Film Festivals • Kobe Bryant