NEW YORK (CNN) -- Beyoncé wants kids, just not yet.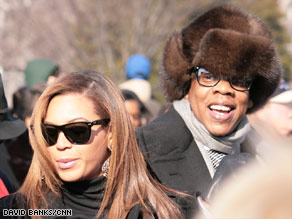 Beyonce and husband Jay-Z attend Barack Obama's inauguration in Washington in January.
"I do feel like I have so many things to accomplish, and I'm still young; I'm 27," the singer-songwriter-actress said Thursday night on CNN's "Larry King Live."
Beyoncé married rapper Jay-Z a year ago.
"I feel like I've accomplished a lot of things, but I haven't seen the best of myself, and the world hasn't seen the best of me," she said. "When it's time and when it happens, when it is meant to be, it will, but I'm in no rush."
She said her own mother would serve as a model to the type of mom she would like to someday be.
"I only pray that my relationship with my daughter is like the relationship I have with my mother," Beyoncé told King.

Watch more of the interview »
Beyoncé said the highlight of her career was singing Etta James' "At Last," at the Neighborhood Ball for the first dance of the Obamas.
"It was really difficult for me to stay focused and not to lose control, because it was so overwhelming," she said. "I know they personally asked me to do the performance, so I wanted to make sure I did it justice."

Beyoncé is busy promoting her new movie, "Obsessed," which hits U.S. theaters Friday. In the thriller, Beyoncé plays a woman whose husband is stalked by a crazed female office temp.
Beyoncé will also launch a world tour starting Sunday in Croatia.
E-mail to a friend

All About Beyonce Knowles • Movies