(CNN) -- The board of the Screen Actors Guild voted to approve and recommend to members a new two-year agreement with studios and producers Sunday, ending a months-long deadlock over contract talks.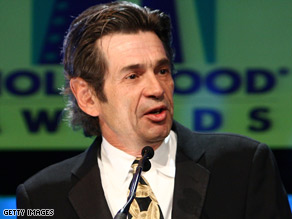 Alan Rosenberg is the national president of the Screen Actors Guild.
"This tentative agreement delivers increased contributions to the SAG pension plan, increased minimums ... and it tracks the new media provisions achieved by other entertainment industry unions," said John McGuire, the union's chief negotiator.
The board endorsed the package 53 percent to 47 percent. The tentative deal still must be approved by union members.
"I urge members to carefully review both the pros and cons in the referendum materials, and exercise their right to vote," said Alan Rosenberg, the Screen Actors Guild national president.
The Alliance of Motion Picture and Television Producers hailed the package.
"Because both sides were willing to compromise, we now have an agreement that will provide SAG members with meaningful wage boosts, pension increases, first-class health benefits and a complete set of new media rights and residuals," the alliance Web site said.
"With this agreement in place, our entire industry can work together to overcome the enormous economic challenges before us."
Don't Miss
The actors have been working without a contract since June 30. The two sides have been at odds mainly over the amount actors should be paid when their movies or TV shows are distributed on discs or through new media, such as mobile phones and the Internet.
The talks were tumultuous for Hollywood's biggest actors' union.
During the drawn-out process, the Screen Actors Guild fired its executive director and named a new chief negotiator amid a bitter division among the actors over the question of calling a strike against the Alliance of Motion Picture and Television Producers.

E-mail to a friend

All About Screen Actors Guild • Alliance of Motion Picture and Television Producers • Alan Rosenberg • Hollywood