By Todd Leopold
CNN





(CNN) -- "Hannah Montana: The Movie" is exactly what it purports to be, no more, no less: a two-hour version of a "Hannah Montana" TV episode.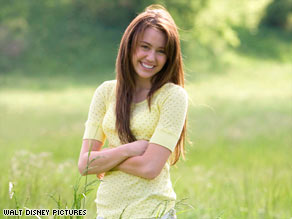 Miley Cyrus stars as Hannah Montana -- and Miley Stewart -- in "Hannah Montana: The Movie."
Hannah's popularity becomes too much for Miley Stewart (Cyrus). Miley retreats to Tennessee, learns what really matters, performs some songs and kisses a boy, and everything turns out all right in the end.
Peter Chelsom -- whose checkered career includes the terrific "Funny Bones" and "Hear My Song" as well as the bomb "Town & Country" -- handled the direction.
It's a sunny movie for Easter weekend. There are no Blofelds threatening the world, no sexual intercourse with pies, no bodies shot into pieces by machine guns smuggled in cocaine. Just sweet Miley Cyrus, her soul-patched dad and the huge Disney movie machine humming along.

Watch Miley and Billy Ray Cyrus talk about "Hannah" »
Which means that perfect counterprogramming is "Observe and Report," which walks a fine line between brilliant and revolting. CNN.com's Tom Charity thinks it's great; the New York Press' Armond White calls it "the ugliest, most hate-filled comedy since 'Borat.' " (Which, for many, could make "Observe" a must-see; if White wanted to discourage people, he should have said "the ugliest, most hate-filled comedy since 'Waiting.' ")
Also opening this weekend is "Dragonball: Evolution," and, for a handful of markets, there's "Anvil!: The Story of Anvil," about an '80s metal band that never grasped the brass ring but whose history certainly makes for entertaining watching. That film is earning a 98 percent rating at Rotten Tomatoes and 83 percent at Metacritic, some of the highest marks of the year.

Watch a preview of "Dragonball" »
On the DVD front, more 2008 holiday movies have found their way on to video, including "Yes Man," "Bedtime Stories," "The Day the Earth Stood Still" and "Doubt," the latter of which was nominated for five Oscars. That's five more than "Yes Man," "Bedtime Stories" or "The Day the Earth Stood Still," for what it's worth.
Bob Mould, Neil Young and the Doves released albums last week; among the acts putting out albums Tuesday are Fastball and Silversun Pickups. (And now "The Way" is running through my mind.)

Watch an interview with country star Jason Aldean »

So, not a bad Easter weekend -- and it will conclude (more or less) with the final round of the Masters golf tournament.
Miley Cyrus will probably not be there. She's got some wholesome singing to do.
E-mail to a friend

All About Movies • Miley Cyrus