(CNN) -- This month 'The Screening Room' looks at films from the frontline: film makers who have struggled under difficult and often dangerous conditions to finish their stories on the battle to protect human rights.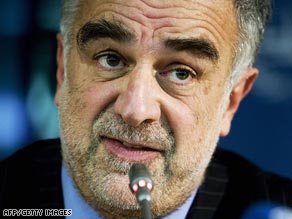 Luis Moreno-Ocampo, Chief Prosecutor at the International Criminal Court in The Hague, who is the star of a new film about the work of the court.
Host Myleene Klass heads to the Amnesty Film Festival in The Hague in The Netherlands to speak to Luis Moreno-Ocampo, the International Criminal Court Chief Prosecutor who issued an arrest warrant for Sudanese President, Omar Hassan al-Bashir for war crimes in Darfur.
Moreno-Ocampo is the star of a new film about the work of the court and his search for justice.
In London, the Human Rights Watch International Film Festival is making a lot of noise with films like Havana Marking's Sundance-winner, "Afghan Star," which sees female contestants risking all to sing in Afghanistan's first ever televised talent contest.
We also take a look at Danish director, Anders Østergaard's "Burma VJ," a documentary about video journalists who put themselves at risk smuggling footage to tell the story of the 2007 protests by thousands of monks in Myanmar.
Plus, a report on a film director who works as a projectionist touring the Palestinian territories bringing mobile cinema to those who have no access to a fixed screen. There is only one working cinema in Gaza and the West Bank and many rely on him to momentarily escape their war-torn realities through the world of film.
"The Screening Room" also has interviews with the director of the Sheshat Women's film festival, and film-maker Annemarie Jacir, both of whom are experts on the region's defiant film industry.
E-mail to a friend