By Todd Leopold
CNN





(CNN) -- Welcome to April -- or, as the studios think of it, January with better weather.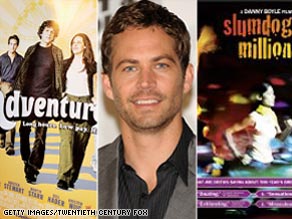 "Adventureland" and "Fast & Furious" are in theaters this weekend. "Slumdog Millionaire" is out on DVD.
January, of course, is considered the dumping ground of Hollywood releases.
It's the month you'll find movies that have been sitting on the shelf for several months -- or longer; the month for mindless comedies and low-budget slasher flicks; the month in which Kevin Kline's 1989 bomb "The January Man" was actually released, thus setting the tone for the foreseeable future.
April isn't quite as dark, but it's the month of the holding period. Spring break is generally over, there are no holiday weekends to free up families, and the studios are waiting for May to release their summer blockbusters.
But January has its charms at the multiplex, and so does April.
January is the time when the studios' Oscar-caliber offerings go into wider release, along with a handful of foreign-language and independent films. (Besides, there's nothing wrong with a mindless comedy in the pit of winter.) April, in its quiet way, follows suit.
Which brings us to "Adventureland," a new film about a guy spending a summer working at a broken-down, cut-rate carnival, looking for some fun, extra money -- and sex, of course. The movie, starring Jesse Eisenberg and "Twilight's" Kristen Stewart, has been presented as another in the teen comedy mode, but as our own Tom Charity says, it's much better than that.
Don't Miss
"After an initial flurry of gross guffaws, the movie edges towards something rather different: a nuanced, sensitive coming-of-age story that finds its heart in post-adolescent romantic turmoil," he writes.
The Hollywood Reporter's Duane Byrge agrees. " 'Adventureland' is no mere freak show or mindless carnival house. Boosted by its romps and romances, it's based on the sincere dreams and frustrations of its teenage characters. It embraces their anxieties, dreams and youthful valor," he writes.

Watch what Mr. Moviefone thought of the weekend's films »
Damn your praise, critics! This is America. Nobody wants "dreams and youthful valor" -- they want lots of barely legal breasts and low-brow jokes. You just cost this movie at least $20 million at the box office.
That's money that will probably be lapped up by "Fast & Furious," the fourth film in the series about hopped-up cars and their hopped-up drivers. What makes No. 4 different from Nos. 2 and 3 is that it brings back the stars of No. 1, including Vin Diesel, Paul Walker, Jordana Brewster and Michelle Rodriguez.

Watch Walker and Diesel talk about their new film »
But the rest is pretty much the same: "You get your cars that are fast and your characters that are furious," writes Roger Ebert, and who can ask for anything more?
Meanwhile, more Oscar flicks are making their way to the DVD racks, including the best-picture winner, "Slumdog Millionaire," which was released on DVD Tuesday. If you haven't seen "Slumdog," give yourself a treat: Though Danny Boyle's direction often gets overly kinetic, the film's heart is true, and if you don't finish with a great big smile on your face, you must have seen another movie -- "Seven Pounds," perhaps.

Anyway, there's no reason to stay indoors all weekend, watching a film or listening to music or something. It's spring, for Pete's sake, and that means ... baseball. So oil up the glove, get a new ball, and limber up your arm for a catch.
When you're done, come back inside for the season opener Sunday -- the Atlanta Braves at the World Champion Philadelphia Phillies -- on ESPN at 8 p.m. ET. That adventure is just beginning.
E-mail to a friend

All About Academy Awards • Movies • DVD Releases