(CNN) -- If you have ever fancied yourself as a movie director but thought it was too difficult or expensive, think again. The answer could be in your pocket.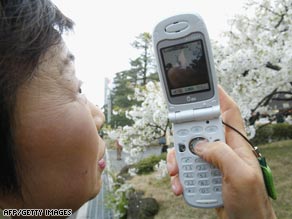 The technology to make a movie could be sitting in your pocket -- a mobile phone.
Mobile technology, which allows you to shoot video with a phone small enough to fit in your back pocket, means it has never been simpler to translate your story to the screen.
CNN's The Screening Room Mobile Phone Movie competition is inviting potential filmmakers to showcase their talents by making a short film on a mobile phone.
You don't need to worry about complicated editing equipment either. If you have a computer, you can use any of the simple video editing software widely available, or why not just edit in-phone. Read our tips for first-time mobile phone movie-makers here
Once you have made your film, it couldn't be simpler to enter: Just shoot a short film of up to five minutes, on any subject, using your mobile phone, and upload it as a video response to this video no later than midnight on 25 May 2009.
Click here for step-by-step instructions on how to enter the competition.
Don't Miss
If you are successful, your film could be watched by millions of people from all over the world on CNN.com, or maybe even CNN TV. So, there's no excuse not to grab your phone and join the movie-making revolution.
Just remember, you must read the Terms and Conditions before you submit your video.
E-mail to a friend