By Tom Charity
Special to CNN






(CNN) -- What's love without trust? A turn-on, if you're Ray Koval (Clive Owen) or Claire Stenwick (Julia Roberts), the lead characters in "Duplicity."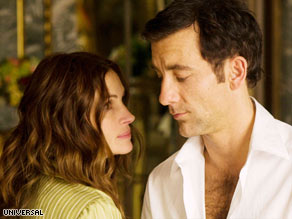 Julia Roberts and Clive Owen play cat-and-mouse games in "Duplicity."
Professional spies -- CIA and MI6, respectively -- they couldn't respect a partner who didn't see all the angles. After all, when you think about it, what is trust without risk?
They meet in Dubai in 2002. Ray seduces Claire -- or so he thinks, until he wakes up. Years later, they cross in New York. By this time, they've both gone private. Ostensibly they're working for rival pharmaceutical companies, except that Claire is a double agent who has infiltrated one outfit's security team to get the dope on a long-gestating top secret product launch.
More than that you should not know. Not knowing is the fun of it, for Ray, for Claire and for the rest of us.
Did I say "fun"? Though it's every bit as cynical as writer-director Tony Gilroy's previous screenplays for the Bourne movies and his directorial debut, "Michael Clayton," "Duplicity" marks a significant shift in tone. It's closer in spirit to the sexual role-playing shenanigans of "The Thomas Crown Affair" or the game-playing in "Ocean's Eleven," albeit punctuated with a healthy ironic wit.
If Gilroy didn't write the part of Ray for George Clooney, I'd be surprised. A smooth operator who nevertheless suspects that he may be overmatched this time, Koval lays everything on the line even though he knows better.
Clive Owen is inevitably more down to Earth than Clooney and also less prone to telegraph the gags. He hits a nice groove with Roberts; she's always the senior partner in the relationship, which makes sense in the circumstances.
Save for relatively small roles in "Ocean's Twelve" and "Charlie Wilson's War," it's been five years since Roberts appeared on screen: opposite Clive Owen in "Closer," as it happens. That's a long sabbatical for our top female movie star, but she's vivacious and playful here, as confident and self-assured as we've seen her.
None of the characters is particularly sympathetic -- Clooney might have had an edge there -- but at least Ray and Claire are a good fit, and they're easier on the eye than Paul Giamatti and Tom Wilkinson, who play the warring honchos Roberts and Owen are ostensibly working for. iReport.com: What do you think of 'Duplicity'?
Very elegantly photographed by Robert Elswit ("There Will Be Blood"), "Duplicity" is pure artifice, a sophisticated put-on with a light touch and no shortage of clever ploys and smart plays. It may not leave much of an imprint, but the dexterity is impressive.
Gilroy squanders points by spelling out the sting in redundant detail. It's as if, after spinning us through this elaborate game of charades, he suddenly lost faith in our ability to connect the dots. Too much, too late, for sure.
Then again, the lovers' final heart-to-heart is beautifully scripted and acted, and the revelation of the nature of the secret formula everyone is so desperate to get their hands on is a real peach, one of many potential spoilers it would be foolish to give away. With this movie, the less you know going in, the better. "Duplicity" is well worth the revelations.
"Duplicity" is rated PG-13 and runs 125 minutes. For Entertainment Weekly's take, click here.
E-mail to a friend

All About Movies • Julia Roberts • Clive Owen