By Neil Curry
CNN





PARIS, France (CNN) -- French filmmaker and author Benoît Labourdette runs the world's first mobile phone film festival, the Pocket Films Festival, which is in its fifth year.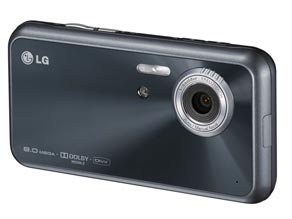 The LG Renoir KC910 touch-screen mobile has an eight megapixel camera and can record videos up to 120 frames per second.
Labourdette founded the festival to encourage people to make films using their mobile phone -- a tool now owned by 60 percent of the world's population.
He has written a book on the subject, "Tournez Un Film Avec Votre Telephone Portable" ("Making A Film With Your Mobile Phone") to give advice to wannabe "pocket" filmmakers, and regularly holds workshops at Paris cinematographic institute, the Forum des Images.
Here, Labourdette shares the basics of what he has learned about making mobile phone movies to help first-time filmmakers. Enter The Screening Room Mobile Phone Movie competition
1. Don't be blinded by megapixels
Mobile phone stores often make great virtue of the bigger megapixel phones, but megapixels refer to still photography not video. Look in the spec for the letters "VGA," which indicate the top level of video quality. QVGA is next best, but avoid QCIF which is the poorest video quality.
2. Content is king
Despite such technical considerations, an interesting story on poor quality video will always beat a boring story shot in pristine quality. Think about what and why you are shooting before you press record. What are you trying to say with your film?
3. Get to the parts other cameras cannot reach
Make good use of the portability of your mobile phone camera. Look for unusual angles, locations and effects which would be difficult to replicate with a regular camera.
Have you got any tips for making mobile phone movies? Tell us in the SoundOff box below
4. Never zoom
Picture quality degrades rapidly when you zoom -- move closer to your subject physically instead.
5. Lights, camera, action!
You'll achieve much clearer results in good lighting conditions. You could carry a lighting kit, but that sort of defeats the purpose of a portable camera in your pocket, so shoot on bright days or make creative use of artificial light.
The Screening Room
Bringing you the inside track on all aspects of the movie business around the globe.


6. Audio
Audio quality on most mobile phones is poor. The on-board mike will pick up sounds from all around. That's another reason to be close to your subject. It's possible to dub audio, narrative or music afterwards. Make sure you have permission to use any music you put in the film if you plan to publish your work.
7. Avoid editing
Most editing programs require mobile video to be converted to DV format to make it accessible on your computer. Try to shoot a short story in one continuous clip or edit in camera by thinking about a sequence before you shoot. Plan a start, a middle and an end for each shot.
8. Keep it simple
Don't make movie-making more difficult than you need to.
9. Choose a good phone
Although the story you tell is more important than the quality of the images in this medium, good equipment can make your movie even better. Below we list five of the best phones for movie-making.
1. LG Renoir KC910
A touch-screen that can record videos in VGA quality at 30 fps, up to 120 fps for slow-motion and down to 5 fps for super high-speed.
2. Nokia N96
Records in both MP4 and 3GP video file formats and features a video-editing suite to let you polish your videos right from the handset.
3. Motorola Z10
Also a 30 fps VGA quality phone, but with a superior Media Editor that lets you add subtitles, commentary, soundtrack, or create your own story board.
4. Samsung Pixon
Features a large touch-screen, and lets you record at 30 fps in Wide VGA (WVGA) for even more pixels in the shot, and it has in-phone editing capabilities.
5. Sony Ericsson W595
Lets you upload video directly to YouTube, but records video at a maximum of 15 fps.
The 5th Pocket Films Festival runs from June 11-14 2009. For more information go to: Festivalpocketfilms.fr
E-mail to a friend

Olivia Sterns contributed to this article.