NEW YORK (CNN) -- Hours after actress Natasha Richardson was reportedly transferred to a New York City hospital, her mother and sister were seen visiting late Tuesday.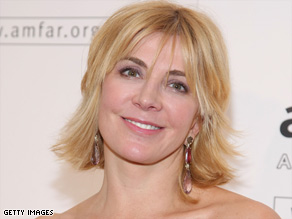 Natasha Richardson fell on a beginners' slope in Canada.
Lenox Hill Hospital would not confirm Richardson's transfer from a Montreal hospital after she was injured during a ski lesson at a Quebec resort.
But several members of her family, including her mother, Oscar winner Vanessa Redgrave, and her sister, "Nip/Tuck" star Joely Richardson, were shown entering the hospital.
Images appeared on the Splash News and "Entertainment Tonight" Web sites.
Following Richardson's fall on Monday, she was taken to a hospital near the Mont Tremblant ski resort in Quebec and later transferred to Hopital du Sacre-Coeur in Montreal, a resort spokeswoman said in a statement Tuesday.
On Tuesday, Richardson, the wife of actor Liam Neeson, was transferred to an undisclosed location in the United States, according to Michelle Simard, spokeswoman for Hopital du Sacre-Coeur. Simard said she had no further details.

Watch as Natasha Richardson is hospitalized »
Richardson fell on a beginners' trail Monday during a ski lesson at Station Mont Tremblant, said the statement from the resort, located about 130 kilometers (80 miles) northwest of Montreal. She was not wearing a helmet, the resort said.
At the time, Richardson was accompanied by a veteran ski instructor, who called the ski patrol, the statement said. The ski patrol members examined her and found no sign of injury.
"As standard protocol, the ski patrol insisted that Ms. Richardson be transported to the base of the hill in a rescue toboggan," the resort statement said. Once at the base of the hill, staffers advised Richardson to seek additional medical attention, but she declined.
Accompanied by the instructor, Richardson went to her hotel, where she was again advised to see a doctor, the resort said. The instructor stayed with her as a precaution.
"Approximately an hour after the incident, Ms. Richardson reported she was not feeling well," according to the statement.
An ambulance was called, and Richardson was taken to the hospital.
The statement offered no details about her condition or injuries.

Richardson, 45, has appeared in many television, film and stage roles, including the movies "Nell" and "The Parent Trap." She won a Tony award in 1998 for her performance as Sally Bowles in "Cabaret." She married actor Neeson in 1994.
The Montreal Gazette reported that Richardson's two sons with Neeson were skiing with her at the time of her fall, and that Neeson flew from a Toronto film set to be with her at the hospital in Montreal.
E-mail to a friend

All About Liam Neeson • Natasha Richardson • Montreal