From Doug Ganley
CNN





NEW YORK (CNN) -- They've been called "bromances": those buddy films and TV shows, such as the movies "Pineapple Express" and "The 40-Year-Old Virgin," that feature non-sexual but deep friendships between two or more males.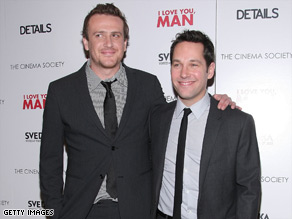 Jason Segel and Paul Rudd star in "I Love You, Man," which opens Friday.
The forthcoming "I Love You, Man," which opens Friday, appears to fit the bill.
In the film, Paul Rudd plays a man who needs a best man for his wedding but has never made any male friends. Enter Jason Segel as Sydney Fife, whom Rudd's character, Peter Klaven, pursues on several "man-dates" that end up threatening his relationship with his fiancée (Rashida Jones).
But don't call the film a "bromance" in the presence of Rudd and Segel.
"We hate that word," Segel told CNN.
"It was not part of the lexicon while we were filming," added Rudd.
Still, both actors have plenty of experience in the, uh, guy-pal genre. Rudd has been in several comedies written, directed or produced by Judd Apatow, considered one of the leaders of the "bromance" trend with his softer, more openly emotional male characters. Segel has also been in Apatow projects -- including last year's "Forgetting Sarah Marshall" -- and he stars in the TV series "How I Met Your Mother," which finds plenty of humor in male bonding.
Segel observes that what helps the films work is the discomfort of two men trying to talk about their emotions while hoping to maintain a dispassionate, hard-edged, prototypically manly façade. And he knows he's good at bringing out that discomfort in his co-stars.
"Judd Apatow told me that my special skill was that I am able to maintain my likability while getting incredibly close to the creepy line, and that's what I should try to cultivate," he said.
"That's what he does," Rudd noted. "He just holds [the moment] a little too long."
"It's the fraction of a second too long that makes people uncomfortable," Segel added.
In "I Love You, Man," Segel's character is rougher and looser than his characters in "Sarah Marshall" and "How I Met Your Mother." He welcomed the change.
"It was a real treat for me, to be honest for a minute, to play this character, because I've played sort of a puppy dog guy in 'Forgetting Sarah Marshall,' and on ['Mother'] I play a husband, you know, a loving husband," he said. "So to get to play a character who is a bit more of a man of mystery was very exciting for me."
In real life, claims Segel, he even has a man cave.
"It's filled with puppets," he said. "And I keep wondering why I don't have a girlfriend. I'm like, 'hey, this is my house; come check it out. This is where I keep my 40 puppets.' ... I think that I have a reputation for being weird because of that."
But he quickly turns serious and maintains that "I Love You, Man" does have a message to go along with its comedy.
"I think we both had something to learn from each other," he said. "Paul's character had to learn that it's all right to take a little distance from your significant other and have some dude friends and someone to vent to about things you can't necessarily talk about with your girl."
"Sometimes buddies hold a mirror up to the way you behave in ways that relationships with the opposite sex don't," Rudd said.
"Yeah, and my character had to learn that maybe it's time to grow up a little bit," Segel added.
So, this "bromance" thing, allowing a few feelings to show. Perhaps it's not so bad after all?
Rudd says that the idea has its upside, despite its name. And he's glad it's been successful.
"That's us in a nutshell, not macho, not tough," he said. "I think that we've all been kind of drawn to real stories, you know, characters that hopefully people can relate to and what's funny about just certain insecurites and just certain things in life.
"They could easily be dramatic," he pointed out. "Just less fart jokes."
E-mail to a friend

All About Movies • Paul Rudd • Jason Segel