By Tom Charity
Special to CNN






(CNN) -- It seemed like a good idea at the time: Skip the "Jonas Brothers: The 3D Concert Experience" -- the only major wide release this weekend and more or less review-proof -- and check out the new releases down at the local DVD store instead.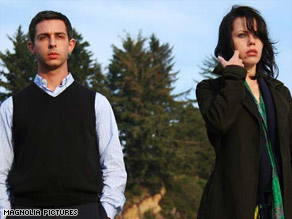 Jeremy Strong and Fairuza Balk star in "Humboldt County," though she doesn't hang around long.
I was up for this assignment. We all know how close "Slumdog Millionaire" came to bypassing theatres. The film was initially bankrolled by Warner Independent, and when that boutique shingle was rolled into parent Warner Bros., some executive decided that the year's best picture should not pass Go -- skip the $200 -- and head straight to the rental chains. (Warner Bros., like CNN, is a division of Time Warner.) If it could happen to "Slumdog," what other gems might be out there?
I scan the shelves. "High School Musical 3." "W." "How to Lose Friends and Alienate People." I'm a movie critic -- been there, done that.
A harder look produces a handful of possibilities. I zero in on three unfamiliar titles. "Humboldt County" boasts the participation of former child star Fairuza Balk while the quote from Time Out New York promises "a pleasant buzz." "Ghost Writer" doesn't come with any critical endorsement, just a groaner for a tagline ("Deadline has a new meaning"), cover art that says horror-suspense, and an oddball cast: Alan Cumming, David Boreanaz, Anne Heche, Henry Thomas, Jane Lynch, Karen Black and Carrie Fisher. Intriguing.
Finally, there's "Lullaby" ("He took her son ... now she'll take him") starring Oscar best actress nominee Melissa Leo. With its unfashionable sepia artwork and mom-on-the-warpath scenario, this looks like a 1970s grindhouse flick. Not best picture material, I'm thinking, but then again, when did you last see a bad Melissa Leo performance? Never, I'll bet.
It's a crapshoot, so to improve the odds I take all three.
First up is "Humboldt County." It turns out this did get a theatrical release. It opened on nine screens in September and went down from there, so unless you actually live in Humboldt County, which is in far northern California, you probably missed it. And if the movie is to be believed, even if you do live there you probably still missed it, because you were otherwise engaged in farming illegal substances, gazing at the shoreline, and/or hanging out with your quirky neighbors.
It's an alternative lifestyle that sneaks up on the very straight, anxious young med student Peter (Jeremy Strong). He's inducted by "Bogart" (Balk), but scarcely seems to notice when she disappears in the second reel, leaving him in the care of Rosie and Jack (Frances Conroy and Brad Dourif), not to mention her last boyfriend, Max (Chris Messina).
In keeping with the hazy vibe of the thing, nothing much happens -- slowly. Peter misses the bus out of town, more than once. Eventually you realize days, even weeks have gone by and Bogart still hasn't returned. You wonder if Peter and Max might hook up in her absence? But that would harsh the mood. Instead things just drift by. What does the world need with another doctor anyhow -- and where's Zach Braff when you need him?
So I'm underwhelmed by "Humboldt County," but it's a masterpiece beside "Ghost Writer." Shown in festivals as "Suffering Man's Charity" -- possibly the worst title I've ever heard -- "Ghost Writer" is the story of an effete gay music teacher, John (Alan Cumming), harboring an unrequited crush on Sebastian (Boreanaz), a rampantly heterosexual drifter and aspiring novelist he has invited into his home. John gets madder and madder with Sebastian until the day he knocks him out, dresses him in a bra and panties, ties him up with fairy lights and starts swinging.
It sounds horrific but it's pitched as an arch black comedy, and so incongruously staged by Alan Cumming (who also directs) that it's neither funny nor scary, except in how scarily unfunny it is. Mind you, the scene in which horny 69-year-old Karen Black makes out with Boreanaz taps a camp hysteria that puts the rest of this flaccid flick to shame.
Two down. Now my hopes are riding on "Lullaby." I check out the Internet Movie Database and wish I hadn't: "Lullaby" has a user rating of 2.8 out of 10. Leo is Stephanie, a waitress who is getting hit up for money by a foreign gangster who says he has her (grown) son, a junkie. So Stephanie does what any self-respecting mom would do. She sells her car, borrows from her friends, and buys a plane ticket to South Africa to deliver the thug his ransom in person.
Only the price has gone up. He gives her two hours to stump up another $2,000.
Directed by Darrell Roodt and produced in South Africa, "Lullaby" makes no sense in any way except one: Leo's performance does. The "Homicide" and "Frozen River" actress soldiers through this thing with dogged commitment, as if she doesn't know where her next meal is coming from. If that means taking a gig shooting in the sleaziest crime neighborhood in Jo'burg, well, it's still better to play a waitress than be one.
I know exactly how she feels. After all, I could be watching the Jonas Brothers right now.
"Humboldt County" is rated R and runs 97 minutes. "Ghost Writer" is unrated and runs 93 minutes. "Lullaby" is unrated and runs 97 minutes. For a review of the Jonas Brothers' film, go to EW.com.
E-mail to a friend