By Jacque Wilson
CNN





LOS ANGELES, California (CNN) -- It was a night for neon pink bow ties and words like "disaster" and "monstrosity." It was not the night, however, to be Paris Hilton, Mike Myers or Uwe Boll.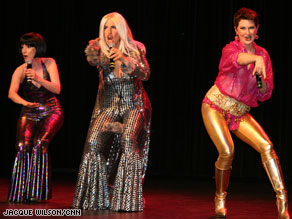 Paula Einstein, Rebecca Marcotte and Kelie McIver do a parody of "Dancing Queen" to open the show.
The 29th Annual Golden Raspberry Awards honored the worst film achievements of the year in a small theater in Hollywood on February 21. The night opened with a parody of the "Mamma Mia" song, "Dancing Queen," and ended with "Love Guru" being named worst picture.
"It wasn't just the economy that tanked, so did the qualities of the movies being offered," Razzie founder John Wilson told CNN several weeks before the show. "I would suggest putting away all sharp [instruments] before putting the DVDs in your machine."
Paris Hilton and Mike Myers came out on top -- or bottom -- for the awards. Hilton earned both the worst actress and worst supporting actress awards for her roles in "Hottie & the Nottie" and "Repo: The Genetic Opera." She was also awarded worst screen couple for her on-screen time with her co-stars Christine Lakin and Joel David Moore.
Razzie host Gretchen Enders said that "Hottie & the Nottie" was "a vanity production in the worst sense... Hilton, who served as executive producer, has no one to blame but herself."
Hilton's film had a budget of $2 million but only earned about $27,000 at the box office.
"Under Obama's new plan, they wouldn't even have to pay taxes," Wilson deadpanned.
Don't Miss
Myers added worst actor to the "Love Guru" worst picture and worst screenplay Razzies. To save anyone else from having to watch it, Wilson shredded a DVD copy of the film on stage.
Parody films "Disaster Movie" and "Meet the Spartans," each nominated in five categories, came away empty-handed. However, that doesn't mean the Razzie foundation thinks they were worthwhile.
"When you invest the kind of money that a mainstream, big-budget star film requires, you want some insurance that your investment is going to come back to you. So... you're going to do what worked before," Wilson said. "Financially that may make sense, but in terms of the audience's enjoyment, surprise or appreciation of what you're doing, it doesn't work."
Enter "Indiana Jones and the Kingdom of the Crystal Skull," this year's winner of the worst prequel, remake, rip-off or sequel award.
"A fourth installment of a beloved franchise, but this one found itself loved by almost no one," hosts Katsy Chappell and Josh Thoemke said.
The approximately 740 voting members of the Raspberry Foundation also found Pierce Brosnan's singing voice sorely lacking. His role in "Mama Mia" earned him the worst supporting actor award.
"An actor who could not sing, should not sing and arguably did not sing, in a role he should not have accepted," Razzie hosts Chip Dornell and Kelie McIver said about the former James Bond.
But perhaps the biggest "winner" of the night was Uwe Boll. Recipient of the worst director award, the foundation also recognized his lifetime work with the worst career achievement award. Boll is the "worst living director on Earth," Wilson told CNN.
Boll had a sense of humor about his Razzie success. He sent in a video rejection speech from a fake set of Darfur, Sudan, saying the Razzies had ruined his life and he would never be back.
The Razzie team is already predicting next year's nominees. A few to watch out for: "Hannah Montana," "Friday the 13th" and "Bride Wars," -- the last of which has already grossed more than $50 million.
"It's kind of like watching a train wreck, isn't it?" Wilson said.
E-mail to a friend

All About The Golden Raspberry Award Foundation • Mike Myers • Paris Hilton