By Jacque Wilson
CNN





LOS ANGELES, California (CNN) -- Sandi Stratton wanted to see a Dodgers game. Babe Churchill wanted to go to the Academy Awards. Babe won that small argument -- and the decision affected them both for many years to come.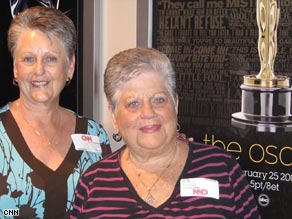 Sandi Stratton (left) and Babe Churchill will attend their 40th Academy Awards ceremony on Sunday.
"Sandi didn't want to come, and now I can't get her to quit," Babe, of Escondido, California, said with a laugh.
The two sisters have been coming to Los Angeles for the Academy Awards for 39 years. On Sunday, they'll celebrate their 40th ceremony.
On that Tuesday morning in April 1970, they parked their car, walked to the bleachers near the Dorothy Chandler Pavilion, where the awards were held, at 10 a.m. and sat down. No one else showed up until noon. (The Dodgers, incidentally, got shut out by Gary Nolan and the Cincinnati Reds, 4-0.)
Now, the sisters get invitations direct from the Academy to sit in the bleachers on the red carpet at the Kodak Theater.
"It's a tradition," said Sandi, of Chino, California. "It's just so much fun, and it's a getaway for all of us."
Their group includes Sandi's daughter, Danielle Johnson, of Culver City, California, who has been coming with her mom and aunt every year since she was 19.
"The rule was, you can't go until you're out of high school and you can pay your own way," Danielle remembered.
They try to keep costs down by staying in an inexpensive hotel and bringing lots of food. For years before the Academy started hand-picking attendees, the family camped out in line -- sometimes for up to 10 days.
"We don't laugh as much all year as we do during this week," Danielle said. "While we were camping out ... it was like, this is so boring. I can't believe I'm doing this. And then when it's over you're like, this was the best week of my life."
Sandi and Babe have seen stars like George Clooney, Will Smith and Matt Dillon up close. They've also seen Hollywood royalty such as Audrey Hepburn, Elizabeth Taylor and Paul Newman.
"I'm 79 years old this year," Babe said with a laugh. "All the old stars are mine. Half of [the celebrities now] I don't even know anymore."
This year, the two are hoping to catch a glimpse of Brad Pitt. They saw him briefly only one time before when he was dating Gwyneth Paltrow.
The sisters are also looking forward to seeing their red carpet friends, especially since they only get to see them once a year.
Plus, they know their tradition will continue for years to come. Danielle has two little girls that will be able to attend once they've graduated high school and can pay their own way.
"They'll be pushing grandma in a wheelchair," Sandi said.
E-mail to a friend