By Tom Charity
Special to CNN






(CNN) -- Greg Cannom. Remember that name.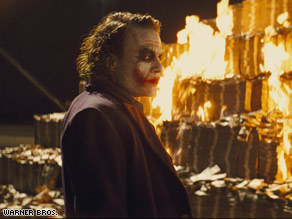 The late Heath Ledger is expected to win best supporting actor for playing the Joker in "The Dark Knight."
It's not a household name, for sure. But this two-time Academy Award winner (for "Bram Stoker's Dracula" and "Mrs. Doubtfire") is the red-hot favorite to win the Oscar in the best makeup category, for his work taking Brad Pitt from decrepitude to infancy in "The Curious Case of Benjamin Button."
His colleagues in the visual effects department are likely to join him, along with the art direction team and possibly costume designer Jacqueline West, taking "Button's" tally to four awards.
But my hunch is that this will prove the outer limit of the Academy's love for David Fincher's epic. Not a good return on 13 nominations.

Watch which films, stars are up for top honors »
On the other hand, I predict that "Slumdog Millionaire" will reap the rewards, with as many as seven Oscars from 10 nominations, including best picture and best director for Danny Boyle. (A full sweep is impossible, as composer A.R. Rahman has been nominated against himself in the best song category. "Slumdog" will also probably miss out for sound editing and sound mixing, two categories that favor big-budget films.)

Watch how "Slumdog" is getting mixed reviews in India »
If I'm right, it will be a fairy-tale ending for what is in many respects a fairy tale of a movie, albeit a fairy tale punctuated with sometimes distressingly grim episodes of violence and poverty.
Still, upsets do happen. Four years ago, all the pundits (including this one) had "Brokeback Mountain" pegged for best picture. Instead, a left-field movie that had been kicking around for months surged from behind and "Crash"-ed the party. EW's Dave Karger makes his predictions
It could happen again, but this year "Slumdog" is -- or at least began as -- the left-field movie. The surprise came when American audiences embraced the energy and passion (the underdog spirit, if you will) of Boyle's film.
'Hollywood's Gold Rush'
Join CNN for Hollywood's biggest night! Live from the red carpet with your iReports.
Sunday, 7 p.m. ET

After all, this was a film that Warner Bros. almost consigned straight to DVD until Fox Searchlight stepped up and obtained U.S. theatrical rights. North American box office receipts will probably reach the $100 million mark soon, making the $15 million film easily the most profitable of the best picture contenders. ("Benjamin Button" has grossed more, but with a budget estimated at $150 million, it cost 10 times as much to make.)

Vote for your favorite nominees in major categories »
Best actor
The "Slumdog" wave won't affect the acting categories, not because the Academy struggles to recognize Indian excellence but because the lead roles in the film are split between three generations of young actors.
Similar considerations will weigh against Brad Pitt's chances for best actor, despite his outstanding performance as "Benjamin Button's" lead. No one seems entirely clear where Pitt leaves off and the makeup, the CGI and the four other actors credited with playing the part take over.
Don't Miss
The pundits have decided that this category is a straight choice between Sean Penn ("Milk") and Mickey Rourke ("The Wrestler"), and although I wouldn't rule out Frank Langella for his strangely sympathetic portrait of the disgraced president in "Frost/Nixon," I have to agree that Penn and Rourke are both compelling choices, and either would be a worthy winner. Given the soft love the Academy has shown "The Wrestler" (two nominations) compared with "Milk" (eight, including best picture), Penn is the smart choice. But my heart goes with Rourke. Penn transforms himself to play Harvey Milk, but Rourke does something more difficult; he reveals himself.

Watch how Rourke made a comeback to get Oscar nomination »
Best actress
This category, like best actor, seems to come down to a choice between two: Meryl Streep (who overpowers the ethical uncertainties of "Doubt") and Kate Winslet (who contrives to make a mass murderer sexy and sympathetic in "The Reader"). These are two ostentatious, technically demanding performances of the kind that Oscar voters appreciate; Melissa Leo's understated naturalism in the little-seen "Frozen River" would stand at the opposite end of the spectrum, well out of the limelight.
It's astonishing that Streep -- by common consent our finest actress -- hasn't won an Academy Award since "Sophie's Choice" (1982), a losing streak that runs through 10 nominations (and counting). But at least she already has a couple of Oscars on her mantel, which is more than you can say for Kate Winslet, hoping it will be sixth-time lucky on Sunday. In this critic's opinion, she's been nominated for the wrong performance and the wrong film ("Revolutionary Road" would have been my choice), but I've had more arguments about "The Reader" than any of the other contenders this year, and I suspect that there is enough support out there for a Winslet win. iReport.com: iReporter sees Streep winning
Supporting actress
I think we'll see Penelope Cruz triumph for her fabulously funny bilingual artist in Woody Allen's "Vicky Cristina Barcelona." She's already won a BAFTA and an honor from the National Board of Review. But the Academy likes surprises in this category, and a first-time such as Taraji P. Henson could take it. iReport.com: Who do you think will win?

Supporting actor
The idea that Heath Ledger won't win for "The Dark Knight" is so unthinkable, I can only imagine mass walk-outs at the ceremony and riots breaking out across the country if it doesn't come to pass.
E-mail to a friend

All About Academy Awards