By Elham Khatami
CNN





(CNN) -- Receiving an Academy Award nomination is an honor most actors dream of. For several of this year's Oscar nominees, it still feels like a dream.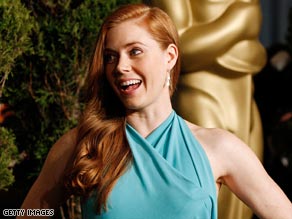 Amy Adams says that her first Oscar nomination three years ago was like being "shot out of a cannon."
"It's completely surreal, and it hasn't really sunk in yet," said Amy Adams, one of the stars of "Doubt." "There are moments when it seems like reality, but it's far too good to be true."
Adams, who was first nominated for her supporting role in 2005's "Junebug," said she is enjoying her nomination even more the second time.
"I think, oddly enough, I'm more grateful this time around. Not that I wasn't grateful, but I was just so nervous and so shot out of a cannon," said Adams, who is up for best supporting actress. "It was such a whirlwind that I didn't necessarily absorb it. So I made a deal with myself to enjoy it this time and have fun."

Watch Adams on having "Doubt" »
Don't Miss
Adams is not alone in her excitement. Richard Jenkins, recognized for his leading role in "The Visitor," is relishing his first Oscar nomination. iReport.com: Who do you think will win?
"It's humbling, and it's amazing. It's something I never thought would happen, and you know if you live long enough, you see everything," he said. "I'm terribly appreciative of this honor, and it is an honor."
But Jenkins doesn't want to focus too much on the nod. "The more you think about it, the less based in reality it becomes," he said.
'Hollywood's Gold Rush'
Join CNN for Hollywood's biggest night! Live from the red carpet with your iReports.
Sunday, 7 p.m. ET

Best actor nominee Frank Langella earned his first Oscar nomination for his part in "Frost/Nixon." The veteran actor said the recognition is encouraging, especially after being in the business for so long. iReport.com: Deliver your acceptance speech
"It comes at a time in your life when your head isn't turned by it but you can appreciate it," Langella said.
Robert Downey Jr. shares Langella's perspective. The star of "Tropic Thunder" is nominated for his first Oscar in 16 years. Being recognized for a comedic role is uncommon at the Oscars, but Downey isn't letting the nod get the better of him.

Watch Downey talk about all the "dudes" of "Thunder" »

"It feels really good," Downey said. "But I've been around too long to give it too much credence, because ... it's just this fleeting thing."
The winners of this year's Academy Awards will be announced February 22.
E-mail to a friend

All About Academy Awards • Amy Adams • Frank Langella • Robert Downey Jr.