(CNN) -- He's a Bollywood A-lister, director and Oscar-nominated producer, but Aamir Khan's latest adventure in film sees him join up with CNN for a special Talk Asia Live event.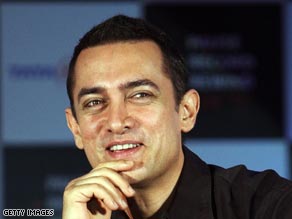 In the hot seat: Aamir Khan answers all in Talk Asia Live.
Khan has become one of he most sought-after actors in Bollywood, taking his own path in a career that began when he was a child actor.
He rose to international prominence in 2001 with "Lagaan", which was also his first foray into producing. The film caught the attention of a global audience with its mix of Bollywood melodies and a strong emotional and dramatic narrative.
It also caught the eye of the Academy Awards and was nominated for the best foreign language film prize.
Show times
Wednesday: 12.30 GMT (20.30 Hong Kong)
Thursday: 03.00; 18.00 GMT (11.00; 02.00 Hong Kong)
Saturday: 16.30 GMT (00.30 Hong Kong)
Sunday: 02.30 GMT (10.30 Hong Kong)
Monday: 02.00 GMT (10.00 Hong Kong)
Tuesday: 18.30 GMT (02.30 Hong Kong)

He told TIME Magazine: "I think in many ways that the Western audience, especially the American audience, is very similar to the Indian audience. Indians like films to sweep us off our feet. We don't necessarily need things to be realistic or subtle."

But Khan has mixed up his roles and projects, from 2005's "The Rising" where he played Mangal Pandey the near-mythical hero of an early Indian uprising against the British, to "Taare Zameen Par" that deals with childhood aspirations and social conventions.

He's taken a brief break from social issues for his latest venture, "Ghajini," an out-and-out action flick for which he bulked up, much to the delight of the Bollywood paparazzi and gossip machine.

After that, a comedy is in store.

Despite increasing international attention, it doesn't seem that India will be losing one of its favorite sons of the silver screen to Hollywood or Europe any time soon.
"I do strongly feel that we have a lot of talent here, and a huge potential to entertain the world, and I feel we should do it in our own way. I don't think we should tailor ourselves. We should retain our own style of story-telling," Khan says on his blog.
E-mail to a friend