By Grace Wong
For CNN





LONDON, England (CNN) -- Actress Kate Winslet will be facing off against herself at the upcoming British Academy Film Awards, an important prelude to the Oscars.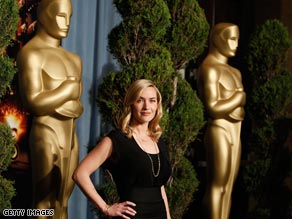 Actress Kate Winslet attends the 2009 Oscar Nominees Luncheon held at the Beverly Hilton Hotel.
Winslet has earned two Bafta nods, receiving nominations for her performances in both "The Reader" and "Revolutionary Road."
A victory at the Baftas, which will be held in London on Sunday, could bring the 33-year-old actress a step closer to an Academy Award, which has so far eluded her.
Winslet, who was born into a family of actors in Reading England, has walked away from the Hollywood ceremony empty handed five times.
Who should win the Oscar for best actress this year? Tell us in the SoundOff below
She's a contender for a best actress Oscar for her portrayal as a Nazi concentration camp guard in "The Reader." (Her performance in "Revolutionary Road" didn't get a nod from the Academy.)
So far this awards season, Winslet has achieved noteworthy wins. She clinched two Golden Globes and a Screen Actors Guild award last month.

After experiencing defeat at the Oscars so many times already, Winslet is prepared for worst.

See photo gallery of her run at Oscar »
"I have a really good losing face now," she told reporters earlier this week at a luncheon for Oscar nominees in Beverly Hills, Calif.
E-mail to a friend

All About Kate Winslet • British Academy of Film and Television Arts • Academy Awards