(CNN) -- Nine leading characters, one big problem.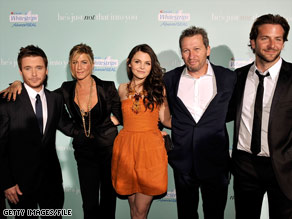 The stars of "He's Just Not That Into You" were personally familiar with the situations depicted in the film.
With his latest film, "He's Just Not That Into You," director Ken Kwapis navigates through the lives of nine Baltimore-based twenty- and thirty-somethings as they play the problematic game of love.
"I found myself relating to all of them. Nine different people, men and women. I've either been there, done that or made that mistake, put my foot in my mouth in that same way," Kwapis said.
Kwapis, who directs episodes of NBC's hit television show "The Office" and also helmed the 2005 film "The Sisterhood of the Traveling Pants," seems to have become an expert on working with ensembles.
"You have to make sure all the characters and all the stories are compelling for an audience," he said. "They're all equal.... I would be hard-pressed to be, like, 'Oh, that's the one who shines.' They shine equally."
Based on the best-selling book by Liz Tuccillo and Greg Behrendt, a former "Sex and the City" writer and producer, "He's Just Not That Into You," which opens Friday, delves into the bewildering world of relationships through the work of an all-star cast.
Stars of the film include Drew Barrymore, Scarlett Johannson, Jennifer Aniston, Ginnifer Goodwin and Kevin Connolly, all of whom were familiar with the confusing situations their characters encountered in the film.
Don't Miss
The story is a roundelay of love's missed opportunities and misunderstandings. After going on a date with Conor (Connolly), Gigi (Goodwin) waits obsessively for him to call. But Conor is still in love with Anna (Johannson), who is hopelessly attracted to good-looking but married Ben, played by Bradley Cooper.
And around and around it goes.
"The thing that I've learnt over the past 30 years is the thing that Gigi learns in the story, which is that with self-acceptance really comes the right partner," said Goodwin.
Such life lessons, as depicted in the film, are learned with time and experience, said Barrymore, who is among the cast members whose own relationships have made for high-profile tabloid fodder.
"I was happy in my 20s, but what I know in my 30s just makes me so much happier," she said.
Barrymore, who was also an executive producer for the film, confessed she was not much different from her character, Mary, who tries against all technological odds to find the right guy.
"I'm talking with my girlfriends about, 'What is this all about?' 'I have to tell you about this.' ...Talking about relationships is so consuming," Barrymore said.
"All relationships, too," Aniston agreed. "I mean, not just love relationships. Friendships, girl-girl, boy-boy, mom-dad, mom-brother. I mean, I think these relationships are always up for discussion."
Insight into the inner workings of the opposite sex is hard to come by, Kwapis said.
"What I absolutely know about women is that they're utterly mysterious and I'm convinced that if I continue to make films about them, I might one day understand them fully," he said.
E-mail to a friend

CNN's JD Cargill contributed to this story.
All About Movies