(CNN) -- As the critics rave and the nominations flow in for her latest role in "Frozen River," Melissa Leo, a veteran of the independent film scene and shows such as "Homicide," has managed to stay grounded in her work as an actress.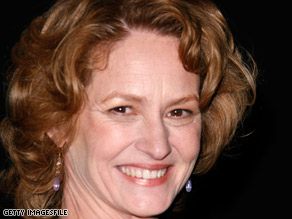 Melissa Leo has received much notice from critics and award shows for her role in "Frozen River."
"I could not be happier, which might seem like a small thing, but I've found most of my happiness within my work all of these years," Leo said.
Leo plays Ray Eddy, a poor single mother from upstate New York. When her husband runs off with their money, Ray must find a way to make ends meet. She is soon lured into an illegal immigrant smuggling ring. The movie follows her struggles as she and a fellow smuggler transport Chinese and Pakistani immigrants across the U.S.-Canadian border.
Leo, who recently scored an Oscar nomination for her role, sat down with CNN and spoke about "Frozen River," the recognition she has received, and her future projects.
CNN: "Frozen River" started off so small. What does the current recognition it is receiving do for a film like this?
Melissa Leo: The kind of recognition that "Frozen River" is getting right now helps the film to be seen ... And it's a really good film, it's a gripping tale, and it's exactly what people who plunk down all of those big bucks to see a movie hope to get -- an adventure that takes them away from their lives and, in the end, maybe gives them something that informs them of something in their own lives.
CNN: How did the Screen Actors Guild nomination feel for you?
Leo: To be recognized this year from SAG is really, really nice. I mean, I can't even say, it's really, really wonderful.
CNN: How did it feel to be nominated along with Kate Winslet, Meryl Streep and Angelina Jolie?
Leo: It makes this chatty girl shut right up and go [mouths] "Oh my God!" Really quite amazing to see myself there.
CNN: This started off as a short film. What did it take to get it into a feature production?
Leo: I first met [director] Courtney [Hunt] after a screening of "21 Grams" and she had really enjoyed my performance and thought there was a truth in the way that I carried that role. [She] was interested in working with me and got a short of "Frozen River" to me.
Misty Upham and I and, in fact, the Pakistani couple who appears in the feature, all shot that short. ... Then, it was about three years time. At some point in those three years, well, Courtney had showed me the edited short ... and did I still want to make the feature, she asked. I go "Yeah, just tell me when and where."
CNN: What are your thoughts on the way the film depicts immigration?
Leo: The movie touches on a lot of very important topics: white poverty in this country ... the Native American issue ... the treatment of them. ... The immigration issue, especially, alongside the native issue, for me, personally brings up the very obvious fact that I am the ancestor of immigrants, as are all of the whites that live in the United States today. ...
That's the thing that I hope people stop and consider. Maybe someday that person that you don't like the way they look and you don't like what they believe in, maybe someday they could save your life.
CNN: What else have you worked on this year?
Leo: Paulo Coelho, who wrote "The Alchemist," has another novel called "Veronica Decides to Die" and an English director, Emily Young, has taken that and adapted that. Sarah Michelle Geller is Veronica, Jonathan Tucker, David Thewlis, Erica Gimpel, Erika Christensen -- an amazing, remarkable cast.
Then [I] went on and shot something humorous which was outside of my usual box. [It] was a great, great pleasure to work with Thomas Haden Church and Elisabeth Shue on a film, "Don McKay," written and directed by Jake Goldberger. Those are all being edited and posted now. I just recently completed shooting with the amazing Kristen Stewart and the remarkable and delightful James Gandolfini on "Welcome to the Rileys."
CNN: What's James Gandolfini like?
Leo: He's a very gentle, sweet man who's got a deepness to him ... I had a delight working with him. When we played husband and wife in a troubled marriage that heals through the meeting of the Kristen Stewart character -- just a joy and a pleasure ... I took home the engagement ring. I thought, "Well, that's something I want to keep." So, I still have my engagement ring to Mr. Gandolfini.
E-mail to a friend

All About Movies