By Grace Wong
For CNN





LONDON, England (CNN) -- Kevin Spacey says their role is shifting, and Meryl Streep tells CNN they're becoming "scarily irrelevant."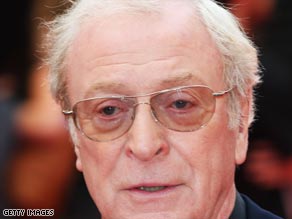 You have to choose the critics you read carefully, Michael Caine tells "The Screening Room."
Who are they talking about? Film critics. As more audiences move to the Web to get their movie reviews, professional critics are finding themselves under increasing pressure.
The Web has created a platform that allows anyone to be a critic. Blogs, message boards and Web sites devoted to film have become alternatives to the printed criticism that once dominated the industry.
"The Screening Room" takes a look at the role of the critic -- how it's changed and what it means for the movie business and audiences.
What has been the most noticeable change to criticism in recent years?
Newspaper critics no longer have a captive audience. They face competition from a movie blogs, Internet forums and sites like Rotten Tomatoes and Metacritic, which score films based on the opinions of a variety of critics.
Movie goers still read what critics have to say, but criticism is no longer an elitist domain. Audiences are also demanding more interactivity. They don't just want to read reviews, but want to share and discuss their opinions as well.

See what Meryl Streep, Kevin Spacey and Michael Caine have to say about critics »
Do reviews influence how successful a film is?
The Screening Room
Bringing you the inside track on all aspects of the movie business around the globe.


Critics can influence how well films do at the box office, according to a study conducted last year by Carnegie Mellon's Tepper School of Business. The study took a sample of 466 films released between 1997 and 2001 and correlated revenue and screening data with the reviews of nearly 50 critics.
The findings showed that critical acclaim can have a significant impact on the timing of box-office sales by getting audiences to go and see limited-release films earlier.
Still, many critics lament the fact that a review no longer carries the weight it once did with audiences. The pervasiveness of publicity junkets and coverage in the blogosphere, have to a degree, made films critic-proof. This is especially true of blockbusters, where marketing campaigns build up such anticipation that a film has to receive terrible reviews across the board in order for its chances of success to be dented.
Are the days of the professional critic numbered?
Movie critics are leaving traditional media in droves. In the last year, critics at Newsweek, the Village Voice and Newsday have retired or been laid off. The situation is a reflection of the decline of print media, whose dwindling revenues have forced newspapers and magazines to cut deeply.
Don't Miss
The outlook for print media doesn't appear to be improving either. The Pew Research Center for the People & the Press published a survey in December 2008 that showed the Internet has overtaken newspapers as a news outlet. For the first time in a Pew survey, more people said they went online to get their news rather than rely on newspapers.
It isn't just the misfortunes of traditional media that are impacting the influence critics wield. In some cases, film studios forego advance press screenings for big movies, either for fear of risking bad publicity or because they are critic-proof and not reliant on good notices, such is the power of their marketing. The latter was the case for "The Da Vinci Code" in 2006, which kept critics at bay until it premiered at the Cannes Film Festival.
What does the loss of traditional critics mean?
While critics can help champion obscure filmmakers and encourage audiences to see films that might not normally register on their radar, they often say their role isn't to make or break a movie, but to start intelligent conversations about film. Many worry that the quality of criticism will suffer if publications keep shedding their critics.
But others say printed criticism shouldn't be treated as sacred and that more opinions are better than a select few. The Web is a powerful tool for championing film and the way forward, especially as audiences these days are able to click their way to a wealth of information about movies, festivals and filmmakers.

Five Web sites to watch:
1. Indiewire -- Everything you need to know about independent film
2. Defamer -- Commentary about the Hollywood scene
3. Cinematical -- Advocates off-beat films as well as the blockbusters
4. Metacritic -- Compiles entertainment reviews
5. Rotten Tomatoes -- Rates films based on aggregate critical opinion
E-mail to a friend