(CNN) -- The February edition of "The Screening Room Xtra" comes from the slopes of Park City, Utah, as we bring you the best highlights from the Sundance Film Festival.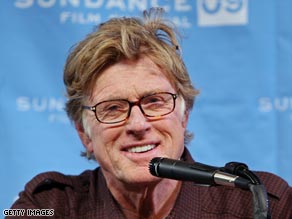 Desperately seeking Sundance: February's show highlights the best from Robert Redford's indie film fest.
Robert Redford has made Sundance, which celebrated its 25th anniversary this year, the leading U.S. festival for independent film.
But indie filmmakers are feeling the ripple effects of the economic downturn as distributors become more selective about the films they pick up.
We take a look at some of the movies that created buzz at this year's festival, including "The Informers," which boasts a star-studded cast featuring Billy Bob Thornton, Kim Basinger, Winona Ryder and Mickey Rourke.
Mexican filmmakers Guillermo del Toro and the Cuaron brothers made a splash at this year's festival. We feature Carlos Cuaron's film "Rudo y Cursi," which reunites "Y Tu Mama Tambien" stars Gael Garcia Bernal and Diego Luna.
Documentaries are always a hot item at Sundance. Chris Rock brings us "Good Hair," an examination of the follicle fascination of African-American women. We also spotlight "The September Issue" by R.J. Cutler, which follows style maven Anna Wintour through the production of Vogue's fall style issue.
Plus, "The Screening Room Xtra" takes a look at Antoine Fuqua's cop drama "Brooklyn's Finest," which made its debut at Sundance.
Watch the show at the following times:
Thursday 5 February: 0945
Friday 6 February: 0415
Saturday 7 February: 0945, 1815, 2345
Sunday 8 February: 1545
Monday 9 February: 0345
(All times GMT)
E-mail to a friend