By Lisa Respers France
CNN





(CNN) -- The new fantasy film "Inkheart" has at its center the relationship between father Mortimer "Mo" Folchart and his 12-year year old daughter Meggie, played by Brendan Fraser and Eliza Hope Bennett.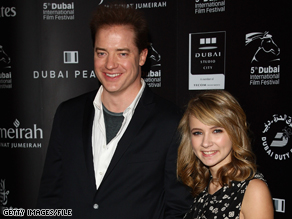 Brendan Fraser and Eliza Hope Bennett star as father and daughter in the film "Inkheart."
The dynamic between the two was evident as they bantered playfully during an interview with CNN.
"There's a real trust between them, but also keeping secrets so it has to sort of have ... the right balance and stuff," Bennett said, explaining Mo and Meggie's relationship. "So it's important that we got on."
"But we didn't," Fraser joked.
"It's a shame that we didn't really because it would've been a good film," Bennett shot back.

Watch what Mr. Moviefone thought »
"Inkheart" is a modern-day tale about a father and daughter who have a passion for books. Dad Mo also has the ability to bring the characters to life by reading aloud.
The trade-off is that for every character brought to life, a real person disappears into the pages. The pair set out to rescue Meggie's mother, Resa, whose deliverance from the mystical world is tied to "Inkheart," an illustrated book of medieval castles and fantastical creatures.
The film, which also stars Helen Mirren and Paul Bettany, opened Friday.
Fraser, best known as the star of "The Mummy" and its sequels, said "Inkheart" director Iain Softley created an atmosphere on the set that made his job playing Mo easier.
"He made sure that you felt you were immersed into the reality of a world that we live in now as if there were certain magical elements possible to it, and you never felt like you were taken along into something that you didn't want to believe in," Fraser said.
The film is based on the best-selling novel by Cornelia Funke. Fraser said he hopes the film will inspire moviegoers to read more.
"I think that it all starts with the imagination and a well-written book can take you on a journey to a place that you've never actually traveled to," he said.
Co-star Paul Bettany plays Dustfinger, a fictional fire juggler, and said he believes the film will appeal to book lovers.
"It's a kids' action-adventure movie and I feel proud that it's sending a positive message about the power of the written word," said the actor, known for his work in "The Da Vinci Code" and "A Beautiful Mind."
Child actress Bennett said she enjoyed the concept of characters coming to life, especially a certain little dog from Kansas.
"Yeah, I love Toto, he was my favorite," she said.
Her comment provided an opportunity for further teasing from Fraser.
"Was he your favorite co-star?" he asked Bennett.
"He was so well-behaved," she responded.
"What made him so well-behaved?" Fraser inquired.
"He was just well-trained," she said.

Fraser joked about the dog knowing his lines and being able to "hit the mark and bark."
"I could do that," Fraser kidded his co-star. He followed through and barked. "How am I doing so far?"
E-mail to a friend

CNN's Jack Hannah contributed to this article.
All About Brendan Fraser • Paul Bettany • Helen Mirren