(CNN) -- "The Curious Case of Benjamin Button" was the big name when the Academy Award nominations were announced Thursday. But it's "Doubt" that leads the pack at the 15th annual Screen Actors Guild Awards, which is being aired Sunday night.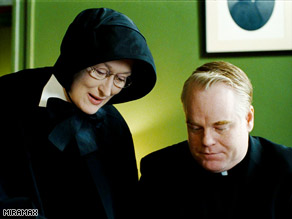 "Doubt's" Meryl Streep and Philip Seymour Hoffman are both up for SAG Awards.
The film, about sexual and religious struggles at a Bronx Catholic school in 1964, received five nominations -- one for each of the four major members of its cast, and a fifth for the ensemble. Meryl Streep, as a suspicious school principal, earned a lead actress nomination. Her co-stars -- Philip Seymour Hoffman, Amy Adams and Viola Davis -- received nominations in supporting categories.
All four were also nominated for Oscars on Thursday.
"Benjamin Button" received nominations for its ensemble and its performers Brad Pitt and Taraji P. Henson. Another film, "Milk," tied "Button" with three nominations, earning nods for star Sean Penn, co-star Josh Brolin and its ensemble.
The other films up for outstanding cast are "Frost/Nixon" and "Slumdog Millionaire."
As she did at the Golden Globes, Kate Winslet snagged two nominations -- one for lead actress for her performance in "Revolutionary Road," and one for supporting actress for her work in "The Reader." The latter performance earned Winslet a best actress Oscar nomination Thursday.

Watch a rundown of the Oscar nominees »
The actors' branch forms the largest bloc of Oscar voters, and the SAG Awards are watched closely by Oscar fans.
But they're not always a guarantee of Oscar gold. Last year, for example, Julie Christie won outstanding lead actress for her work in "Away from Her." At the Academy Awards, she was beaten by Marion Cotillard, who played French singer Edith Piaf in "La Vie en Rose."
Nor does earning a SAG Award nomination mean the performer is a shoo-in for an Oscar tap -- but it doesn't hurt. Of the 20 acting slots available for Oscar nominations, a full 18 match those up for SAG Awards, with only "Revolutionary Road's" Michael Shannon and "The Wrestler's" Marisa Tomei not receiving SAG Award nominations. ("Slumdog Millionaire's" Dev Patel and Winslet's "Reader" performance earned the SAG Award slots.)
The SAG Awards also nominate performances in television. Among the nominees are "Mad Men" (drama ensemble), "30 Rock" (comedy ensemble), Kyra Sedgwick (actress in a drama for "The Closer") and Jeremy Piven (actor in a comedy for "Entourage").
James Earl Jones will receive SAG's 45th Life Achievement Award.
The Screen Actors Guild Awards come at an awkward time for the union, which has been negotiating with the major movie studios over a new contract for several months. Moreover, show business trade publications have been reporting an internal war waged between factions favoring a strike and those wanting to hold off.
In one case, according to Variety, former SAG President Ed Asner sent out an e-mail saying he supports a boycott of the eight SAG Award nominees who came out against a recent strike authorization vote. The boycott would affect Josh Brolin, Steve Carell and Sally Field, among others, the paper said.

"If a union has created an awards show, why should its members vote for and honor people who have severely hurt that union's contract negotiations, who are in essence, union busters?" Variety reported Asner writing. "Bear in mind that they are not being denied work, they're being denied honors from the union they seek to dismember."
The 15th annual Screen Actors Guild Awards is airing on TNT and TBS. The show, which is being broadcast from Los Angeles' Shrine Exposition Center, started at 8 p.m. ET. Both TNT and TBS are units of Time Warner, the parent company of CNN.
E-mail to a friend

All About Brad Pitt • Academy Awards • Kyra Sedgwick