By Todd Leopold
CNN





(CNN) -- "Benjamin Button" received more life, but Batman ended up in the dark.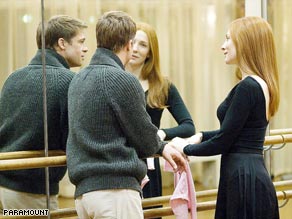 "The Curious Case of Benjamin Button" scored a best actor nomination for Brad Pitt, here with Cate Blanchett.
The nominations for the 81st annual Academy Awards were announced Thursday morning, and to nobody's surprise, "The Curious Case of Benjamin Button" did well, nabbing 13 nods to lead all films.
The movie, about a man who ages in reverse, is a big film (almost three hours long) with big themes (death and love) and earned nominations for best picture, best director (David Fincher), best actor (Brad Pitt), best supporting actress (Taraji P. Henson) and best adapted screenplay along with eight nominations in other categories.
"This is a great honor for the movie, and I'm especially happy for David Fincher, for without him there would be no Ben Button," said Pitt in a statement. The film, based on an F. Scott Fitzgerald short story, has been a project of Fincher's for years.

Gallery: The major Oscar nominees »
However, despite eight Oscar nominations, "The Dark Knight" -- 2008's box-office king -- only picked up one in a major category, that for Heath Ledger's performance as the villainous Joker. The late actor, who died exactly one year ago Thursday, is nominated for best supporting actor, the same award he won posthumously at the Golden Globes almost two weeks ago. Commentary: CNN.com film critic Tom Charity rates the Oscar nominations
"The Dark Knight" had made the short lists for the producers', directors' and writers' guilds, but those honors weren't enough to qualify it for a best picture Oscar nomination. What do you think of the nominations? Send us an iReport
"Slumdog Millionaire," the sleeper hit about a Mumbai orphan who seeks fame and love through the Indian version of "Who Wants to Be a Millionaire?", earned 10 nominations, including best picture, best director (Danny Boyle) and best adapted screenplay. The film, which struggled to find a U.S. theatrical distributor after its initial studio folded, has dominated the awards season thus far and is considered the front-runner for best picture.

Watch star Anil Kapoor talk about the reaction the film has gotten »
Don't Miss
"I'm ecstatic," Boyle said in a statement from Mumbai, where the film premiered Thursday. "Thank you to the Academy from the cast and crew here in Mumbai where the film was made. ... It feels like you've given us a billion nominations."
In a mild surprise, "The Reader," based on the best-selling novel about a postwar German boy who has an affair with an older woman with a Holocaust-related secret, took home nominations for best picture, best actress (Kate Winslet) and best director (Stephen Daldry). "The Reader" comes from the Weinstein Co. -- the studio headed by producer and master Oscar player Harvey Weinstein.
"I'm extremely happy to have been nominated. And very fortunate. Playing Hanna Schmitz will always remain one of the biggest challenges I've ever been blessed with," Winslet said in a statement.
The other best picture nominees are "Frost/Nixon" and "Milk."

Watch a rundown of the major nominations »
The Oscar nominations included a handful of other surprises. "Revolutionary Road," featuring the heavyweight trio of Winslet, Leonardo DiCaprio and director Sam Mendes ("American Beauty"), picked up just one major nomination -- a best supporting actor nod for Michael Shannon's portrayal of a troubled savant.
Woody Allen, whose "Vicky Cristina Barcelona" was widely praised, didn't receive his usual original screenplay nomination. He can take solace in his previous 21 Oscar nominations, including three wins. One of "Barcelona's" performers, Penelope Cruz, received a nomination for best supporting actress. iReport.com: Deliver your acceptance speech
And Oscar favorite Clint Eastwood, who many believed would pick up an acting or directing nomination for his "Gran Torino," received neither. However, Angelina Jolie, who starred in Eastwood's "Changeling," earned a best actress nomination.
The nominations also highlighted some lesser-known talent. Character actor Richard Jenkins, best known for his role as the deceased patriarch on the TV series "Six Feet Under," received a best actor nomination for "The Visitor." Melissa Leo, an actress who has had roles in such TV series as "Law & Order," "CSI" and "The L Word" (as well as a regular role on "Homicide: Life on the Street"), earned a best actress nomination for her performance in "Frozen River."
"Frozen River" also earned a best original screenplay nomination.
Two comeback stories received nominations: Robert Downey Jr., who battled back from drug abuse and incarceration to star in two 2008 hits, "Iron Man" and "Tropic Thunder," earned a best supporting actor nomination for the latter. And Mickey Rourke, who has received raves for his performance as a struggling fighter in "The Wrestler," got a best actor nomination. iReport.com: Who do you think will win?
"Milk," the biopic about pioneering gay politician Harvey Milk, earned nominations for star Sean Penn, director Gus Van Sant and its original screenplay as well as a best picture nod. "Frost/Nixon," about the 1977 interviews between David Frost and Richard Nixon, also received best picture, actor (Frank Langella) and director (Ron Howard) nominations as well as a nod for its adapted screenplay.
Josh Brolin, who was overlooked by Oscar for last year's "No Country for Old Men," received his first Oscar nomination. Brolin played Dan White, Milk's assassin, in "Milk."
"To me, to question how a decent guy could resort to such a monstrous act ... It's just my fascination with that kind of behavior," Brolin told CNN.com Live of his reasons for taking the role. As for his competition, "I couldn't be happier to be in this group of people," he said.

Watch Brolin discuss the complexity of the role »
Meryl Streep, nominated for "Doubt," received her 15th nomination, a record for a performer.
The other major performers in "Doubt" -- Amy Adams, Philip Seymour Hoffman and Viola Davis -- also were nominated in supporting categories.
Israel's controversial "Waltz With Bashir," an animated film about a soldier's memories of the 1982 war in Lebanon, received a nomination for best foreign-language film. The category's other nominees are "The Baader-Meinhof Complex" (Germany), "The Class" (France), "Departures" (Japan) and "Revanche" (Austria).
The nominees for best animated feature are "WALL-E," "Kung Fu Panda" and "Bolt."

"WALL-E" also earned a best song nomination for Peter Gabriel's "Down to Earth." It will compete against two songs from "Slumdog Millionaire." Bruce Springsteen's "The Wrestler" was left out of the category.
The Oscars will be presented February 22 from Hollywood's Kodak Theatre. The broadcast will air on ABC. Hugh Jackman is scheduled to host.
E-mail to a friend

All About Academy Awards • Hollywood