By Tom Charity
Special to CNN





(CNN) -- The first round of voting is over, and the nominations are in. But in this election, there will be no debating between the nominees, and campaigning will be restricted to photo spreads, red-carpet interviews and the Hollywood cocktail party circuit.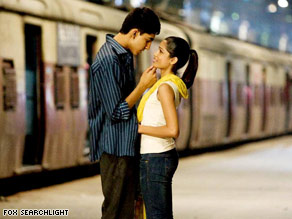 "Slumdog Millionaire" received 10 nominations and is considered a front-runner for best picture.
It seems a shame. The prospect of Sean Penn as Harvey Milk sharing a platform with Frank Langella as Nixon is fun to think about. Or how about Brad Pitt's Benjamin Button going a round or two with Mickey Rourke as Randy the Ram in "The Wrestler"?
Okay, I'm being silly, but then it is pretty silly to take wonderful performances like these and put them in competition for Academy Awards. Now, if each actor tried his hand at each of the five nominated roles, then we could really pick a winner on merit (and who wouldn't want to see Angelina Jolie as the angry nun played by Meryl Streep in "Doubt"?).
Joking aside, the nominations have set up what should be a dramatic night come February 22. At its heart will be an irresistible David and Goliath showdown between David Fincher's lavish $150 million dollar CGI epic "The Curious Case of Benjamin Button," which has 13 nominations, and Danny Boyle's $15 million sleeper, "Slumdog Millionaire," which has 10.

Watch a rundown of major nominations »
You could hardly ask for a greater contrast between two movies, and although it would be foolish to discount the chances of "Milk," "Frost/Nixon" and "The Reader" out of hand (well, maybe we can discount "The Reader"), I have a strong hunch that this is going to be the year of the underdog.
Or, in this case, the "Slumdog."
Don't Miss
Why? Because even though none of its young actors has been recognized (and in fairness, the three leads are played by nine actors over the story's 15-year time span), Boyle's film has an exhilarating, vivacious quality that sends you out on a high. Maybe we need that kind of optimism now.
It will infuriate a large constituency of the moviegoing audience that "The Dark Knight" has not been nominated for best picture or best director. (You should see the comments on CNN.com's Marquee blog.) But for all its turbulence, when you get right down to it, Christopher Nolan's blockbuster is a one-man show, and that man -- Heath Ledger -- will surely be the recipient of the first posthumous Oscar since Peter Finch won for "Network" more than 30 years ago. Ledger is up for best supporting actor.
There are more surprising and questionable omissions. The big loser, certainly, is "Revolutionary Road," which is a better movie than "The Reader" and features a better -- albeit less actress-y -- Kate Winslet performance. There is some compensation in the presence of Michael Shannon, the best thing in the film, among the heavyweight nominees for supporting actor. (Though Philip Seymour Hoffman is surely the male lead in "Doubt," no matter what the Academy says.)
The best surprise is the nomination for Robert Downey Jr.'s hilarious caricature of a too serious Oscar-caliber actor in "Tropic Thunder."

Learn more about the nominees »
In my view, "WALL-E" should have been nominated for best picture, something that Disney might have campaigned for more robustly. Instead it's competing with "Bolt" and "Kung Fu Panda" in the animated category. Hmm, wonder what will win that one?
By the same token, although it makes sense that the best director nominations match up with the best picture list, "WALL-E" Andrew Stanton should have been the first director of an animated feature to be recognized alongside his live action peers.
This year, there have been more extraordinary female performances than we've seen for a while. None of the movies concerned has found a vast audience (yet), but you could certainly argue that Kristin Scott Thomas ("I've Loved You So Long"), Sally Hawkins ("Happy-Go-Lucky") and Michelle Williams ("Wendy and Lucy") give performances as good as -- or better than -- the five Academy nominees. (Let's hope that romantic partners Brad Pitt and Angelina Jolie, both nominated, can find themselves a baby sitter.) iReport.com: Love 'em or hate 'em? Share your thoughts on the nominees

As for supporting actress, now that the Academy voters have very sensibly ignored the spurious campaign to convince them that Winslet was playing a supporting role in "The Reader," the way seems clear for a well-deserved Penelope Cruz victory, in honor of her spectacular portrait of a crazy artist in Woody Allen's "Vicky Cristina Barcelona."
And to return to best actor: Sean Penn is superb as Harvey Milk, but "The Wrestler" feels like the role of a lifetime for Mickey Rourke. The makeup and digital aging effects are impeccable in "The Curious Case of Benjamin Button," but they can't compare with the rough eloquence of Rourke's ruined features or the enduring charm that still lights up when he smiles. That's a good reason we go to the movies in the first place.
E-mail to a friend

All About Academy Awards