By Joshua Rich





(Entertainment Weekly) -- Kevin James is the king of the box office. The actor's latest broad comedy, "Paul Blart: Mall Cop," won the Martin Luther King holiday weekend in decisive fashion, grossing $33.8 million, according to Sunday's estimates. That total far exceeds all expectations.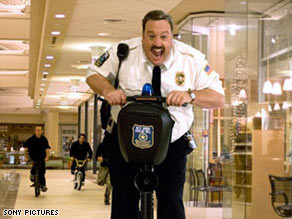 "Paul Blart: Mall Cop" won the MLK holiday weekend in decisive fashion, grossing $33.8 million.
The movie thus becomes James' latest big-screen success (after "Hitch" and "I Now Pronounce You Chuck and Larry"), and it's his first hit opener as the main lead star.
Too, this marks the second success that Adam Sandler has had as a producer in less than a month: "His Bedtime Stories" has grossed $103.7 million since debuting on Christmas day.
Credit likely goes as much to James' growing appeal as to the film's broad reach: According to CinemaScore, the comedy (which got an okay grade of B) drew an audience comprised of all "four quadrants" -- older men, older women, younger men, and younger women.
But that wasn't the only piece of good news at the box office. Clint Eastwood's "Gran Torino" (No. 2) continued its impressive drive through theaters, bringing in another $22.2 million on a mere 25 percent decline. That film's total now stands at $73.2 million.
Next up were two freshman flicks running neck-and-neck, "My Bloody Valentine 3D" and "Notorious." Their sums were so similar ($21.9 million and $21.5 million, respectively), that we won't know which film was No. 3 and which was No. 4 until Monday's final figures come out.
One thing that does separate the two is the fact that "Notorious" played in about 900 fewer venues; thus, it scored the weekend's best per-theater average, $13,126.
"Hotel for Dogs" (No. 5) rounded out the top of the list, barking up a decent but -- considering how lucrative canine cinema has been of late -- somewhat softer than anticipated $17.7 million.
And even further down the rankings, the theatrical expansion of "Defiance" (No. 8 with $9.2 million) fared better than the wider roll-out of "Last Chance Harvey" (No. 13 with $4.7 million).
Overall, the vast array of hearty movies drove the cumulative box office up nearly 28 percent from the same frame a year ago, when "Cloverfield" and "27 Dresses" boosted the holiday weekend. And speaking of the holiday, have a nice one tomorrow, people!
E-mail to a friend

CLICK HERE to Try 2 RISK FREE issues of Entertainment Weekly
Copyright 2009 Entertainment Weekly and Time Inc. All rights reserved.