By Alan Duke
CNN





(CNN) -- If a bed and 14 other antiques up for sale in New York next week look familiar, it might be that you saw them in a movie.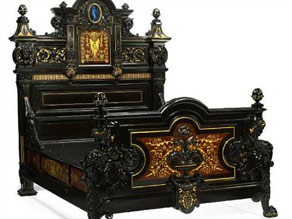 An American Renaissance gilt, carved, inlaid and ebonized bed is expected to go for $500,000.
Pieces of furniture owned by two very rich 19th-century Americans were destined for a trash pile before they were rescued for the silver screen.
They will find new life on the auction block next week.
Made by the Herter Brothers in the 1870s, the furniture sat in Warner Brothers' Hollywood props department since 1942, when the studio bought it at an estate auction for a fraction of the original cost.
Warner Brothers, owned by CNN parent Time Warner Inc., could get $2 million from the auction, and it means valuable space will be cleared out in the props department storage.
One studio source said using such expensive -- although authentic -- props on movie sets doesn't make business sense.
Jon King, director of Bonham's, the New York auction house that will put the furniture on sale next Thursday, said he did not have the studio's permission to reveal in which movies the furniture might have been used.
You can watch post-1942 Warner Brothers period films to find them.
"You have to go slow-motion and stop and start an awful lot," King said.
"I would imagine that if any of these were in movies they might steal the scene away from the actors," said King, an expert in 19th-century furniture.
A New York Times article about the furniture, published in 1995, said it appeared in Warner Brother's "Saratoga Trunk," a 1945 movie starring Gary Cooper and Ingrid Bergman.
Few records were kept over the decades to track the pieces' appearances, a studio source said.
King said he saw Herter Brothers furniture from the same estate in Alfred Hitchcock's "Psycho," filmed in 1960 on Universal's lots.
Universal bought its furniture at the same 1942 estate auction that Warner Brothers attended. The studio sold its collection years ago, King said.
The furniture -- in American Renaissance and American Aesthetic styles -- was made with "very exotic and very expensive materials" for two very rich California men -- Gov. Milton Slocum Latham and railroad magnate Mark Harper, King said.
The most dramatic piece is an ornate bed commissioned for the master bedroom at Latham's Menlo Park, California, home. It could sell for $500,000, King said.
"A lot of people in the field regard that as the finest bed ever made in the 19th century in America," King said. "Basically, the quality of carving and the number of things going on in there in the bed, it's just amazing."
Changing times and tastes made the furniture obsolete for anything but a period movie by 1942. Movie studios were scouring the country for cheap furniture for their props departments, King said.
But recent decades have see a steep rise in values for Herter Brothers craftwork, he said.
King said next week's sale is significant for collectors because "this is the last studio collection."
The Herter Brothers -- German immigrants who set up their furniture-making shop in New York City after the Civil War -- also made furniture for the White House, where some pieces remain.
E-mail to a friend

All About Movies