(CNN) -- John Travolta, in a letter thanking his Ocala, Florida, neighbors for sympathy shown in the wake of his teenage son's death, asked them to love their friends and family "like there was no tomorrow."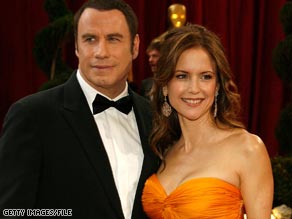 Travolta and Kelly Preston were vacationing in the Bahamas with their children when son Jett died.
The letter, addressed "To The People of Ocala," said their "comforting words, thoughts and prayers" made an "impossibly painful situation, a little less painful."
It was signed by Travolta, his wife, Kelly Preston, and their eight-year-old daughter, Ella. It was released by Travolta's lawyer Monday.
Jett Travolta, 16, was found unconscious on January 2, while on vacation with his family in the Bahamas' West End. He was taken to a hospital, where he was pronounced dead on arrival, local police said.
The autopsy results have not been made public, but employees of the funeral home that handled the remains said the cause of death on the death certificate was "seizure."
Since returning from the Bahamas, the family has remained inside the gated Jumbolair Aviation Estates -- a fly-in community on the outskirts of Ocala.
"The enormous amount of love, support and condolence we have received from this community has been most humbling," Travolta's letter said. "Comforting words, thoughts and prayers of Ocala's citizens have made an impossibly painful situation, a little less painful."
Don't Miss
Many guests for the memorial service on Thursday arrived in planes that landed on the Jumbolair runway -- big enough for Boeing 747s and behind the community gates.
"The actions of Ocala's community leaders, its law enforcement professionals, our neighbors at Jumbolair and its surrounding communities have offered us the dignity to grieve the loss of our son and Ella's brother in peace," the letter said. "For this we will always be grateful."
The most visible show of sympathy was centered at the main gate, where the people left their own memorials to Jett Travolta.
"From the people who drove hours to drop off cards and flowers at our doorstep, to the service providers who made Jett's ceremony so beautiful, thank you," Travolta wrote. "Every person who we have encountered has offered to do anything in their power to help us, but add that they feel powerless to do so.
"We want all of you to know that you have already helped us. By sharing our grief, you lessen our burden. For all of the people who have kept Jett in their prayers, know that those prayers have given us inspiration and strength."

The letter closed with Travolta's advice to his neighbors -- a lesson learned through the sudden loss of his son.
"In parting, we want all of you to cherish your loved ones and your friends like there was no tomorrow, to live your lives to the fullest by continuing to help one another, and to be true to yourselves."
E-mail to a friend