By Todd Leopold
CNN





(CNN) -- It was a night for underdogs at the Golden Globes -- and a particularly rich one for the biggest underdog of them all, "Slumdog Millionaire."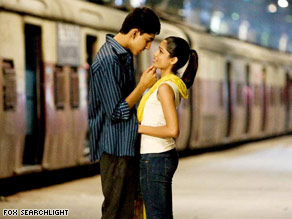 Dev Patel and Freida Pinto star in "Slumdog Millionaire," which was named best drama at the Golden Globes.
The modestly budgeted movie -- about a poverty-raised orphan in Mumbai who goes on the Indian version of "Who Wants to Be a Millionaire" -- won awards for best drama, best director (Danny Boyle), best screenplay (Simon Beaufoy) and best original score (A.R. Rahman).
The victories were all the more astonishing given the film's unlikely production history, which included cobbling together a $15 million budget, shooting on the streets of Mumbai and then struggling for distribution.
The film's principals, including Boyle and Beaufoy, were thankful for the support of the Hollywood Foreign Press Association, which presents the Globes.
"Your mad, pulsating affection for our film is much appreciated," said Boyle.

Watch stars on the red carpet »
"We really weren't expecting to be here in America at all at one time, so it's just amazing to be here," said Beaufoy.
With the film's victories at the Critics' Choice Awards last week, it must be considered the front-runner in the Academy Awards' best picture race. The Academy Award nominations will be announced Thursday, January 22. iReport.com: Sound off on awards season
Another underdog, actor Mickey Rourke, won best actor in a drama for his performance in "The Wrestler." Rourke, who described himself as "almost out of the business" not so long ago, gave credit to his agent for backing him and "Wrestler" director Darren Aronofsky for sticking with him when the film had trouble finding funding.
"The Wrestler" also won a Globe for its theme song, written and sung by Bruce Springsteen.

Watch Golden Globe highlights »
Kate Winslet wasn't considered quite as much an underdog, but she still outdid the odds by winning both categories for which she was nominated: best actress in a drama (for "Revolutionary Road") and best supporting actress (for "The Reader").

Gallery: Winners at the Globes »
Don't Miss
Perhaps she surprised herself most of all. After winning best supporting actress -- the first award of the evening -- she asked the audience, "You have to forgive me, because I have a habit of not winning things." After the best actress win, she took the stage in a mild state of shock.
"I'm so sorry! Anne, Meryl, Kristin -- oh, God, who's the other one? -- Angelina," she said, referring to fellow nominees Anne Hathaway, Meryl Streep, Kristin Scott Thomas and Angelina Jolie. Not long after, being told to wrap it up, she said, "You have no idea how much I'm not wrapping up," before emotionally thanking a variety of people, including co-star Leonardo DiCaprio and husband Sam Mendes, "Road's" director. See the list of Globe winners, nominees
Another win was expected, if tinged with tragedy. The late Heath Ledger won the Golden Globe for best supporting actor for his performance as the Joker in "The Dark Knight."
"All of us who worked with Heath on 'The Dark Knight' accept with an awful mixture of sadness but incredible pride," said director Christopher Nolan. "For any of us lucky enough to work with him, he will be eternally missed, but he will never be forgotten."
Ledger died almost a year ago of an accidental prescription drug overdose.
Ledger's performance was widely praised and he is considered the front-runner for an Academy Award for supporting actor. He was 28 when he died on January 22, 2008. Oscar nominations will be announced on the first anniversary of his death.
Before the show, "Knight" co-star Aaron Eckhart told CNN, "I'm considering it his night tonight."
The Globes also honor TV programs, and in the television categories there were few surprises. HBO's miniseries "John Adams," which dominated the Emmy Awards in September with 13 trophies, won four Globes: best actor (Paul Giamatti), best actress (Laura Linney), best supporting actor (Tom Wilkinson) and best TV movie or miniseries.
"Mad Men" won best TV drama, as it did at the Emmys, and "30 Rock," another Emmy winner, won best comedy TV series.
Though star Tina Fey was announced as the person to accept that award, she let co-star Tracy Morgan have the microphone.
"Tina Fey and I had an agreement that if Barack Obama won, I'd be accepting the awards from now on," he said. Fey later won for best TV comedy actress, joining her co-star Alec Baldwin (best TV comedy actor) as Globe winners.
The Israeli film "Waltz With Bashir" won best foreign-language film. In his speech, director Ari Folman expressed hope for peace in the Middle East.
Noting the "eight beautiful production babies" born during the show's four-year creation, he said he hopes the children can see the film when they get older, and "I hope it looks like an ancient video game that has nothing to do with their lives whatsoever."
Other Globe winners included Sally Hawkins, who won best actress in a musical or comedy for her performance in "Happy-Go-Lucky"; Colin Farrell, who took home best actor in a comedy or musical for "In Bruges"; "Vicky Cristina Barcelona," Woody Allen's latest, which won best comedy or musical; and "WALL-E," which won best animated film.
For those casting metaphorical grass blades into the breeze to see which way the Oscar winds are blowing, the "Globes" may have created front-runners in some races, confusion in others.
Anne Hathaway had won a few honors for "Rachel Getting Married," but Winslet's win over her at the Globes creates a tighter contest for best actress. Rourke's victory is a feel-good story for an actor many had written off, but he may have to face Frank Langella (Richard Nixon in "Frost/Nixon"), Sean Penn (a highly praised Harvey Milk in "Milk") and Leonardo DiCaprio (Winslet's "Revolutionary Road" husband) for best actor. "Milk," in particular, received short shrift from the HFPA; the Motion Picture Academy is expected to be kinder.
The Globes' loose atmosphere -- a trademark of the event, which features an open bar and celebrities sitting at large tables -- was evident from the beginning. Jennifer Lopez, noticing a distinct rumble of chatter as she attempted to begin the show, demanded quiet with "Hello! Hello! Mama talkin'!" Later, Tom Wilkinson, having won a supporting actor honor for his performance in the miniseries "John Adams," forgot the last name of a person he wanted to thank.
There were even a couple of TV no-nos on the live broadcast: "Wrestler" director Aronofsky humorously flashed Rourke a middle finger as Rourke talked about how hard Aronofsky worked the cast, and one of the "Slumdog" producers uttered the F-word upon seeing he was being rushed through his speech.
It was the kind of party people have come to expect from the Globes, a show in which Jack Nicholson once bared his backside and Christine Lahti once was engaged in the ladies' room upon being named a winner.

And, if throwing a glamorous party in these nervous, market-plunging times seems a little unusual, it's also something Tinseltown does well -- and that people are expecting, participants said before the broadcast.
"I think these things are entertainment," Mendes told CNN. "This is people's escapism. ... I think in that respect they should be embraced."
E-mail to a friend

All About Heath Ledger • Golden Globes • Meryl Streep